Concho River Review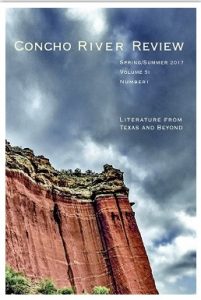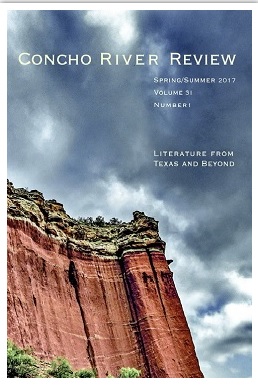 Website:
From the Editor
The Concho River Review publishes writers from all over the United States and, occasionally, writers from abroad. We enjoy publishing writers for the first time. We have a fiction editor, poetry editor, nonfiction editor, and a book review editor who choose works for publication.
From the site:
Begun by novelist and short-story writer Dr. Terry Dalrymple in 1987, Concho River Review is a biannual literary journal published by the Department of English and Modern Languages at Angelo State University. Since its inception, CRR has prided itself on publishing some of the finest short fiction, nonfiction, and poetry from both emerging and established authors. Although originally designed as a forum for Texas writers, over the years its reach and interests have extended well beyond Texas and the Southwest.
Submissions
While CRR is published biannually, we welcome submissions of high-quality fiction, nonfiction, poetry, and book reviews year-round.
CRR accepts only original work that has not been published previously. The Concho Reviews takes submissions of Fiction, nonfiction, poetry, and book reviews.
Upcoming
The 22nd annual ASU Writers Conference featuring Tony Hoagland will bring together old friends and new for a celebration highlighting the achievements of San Angelo's own Elmer Kelton. February 22-23, 2018
All sessions will take place in the University Auditorium, Mayer Administration Building, on the Angelo State University campus.
Information
Editor: Mary Ellen Hartje
Print Magazine? Yes
Circulation: 300
Submission Guidelines:
Approximate Response Time six weeks
Publishes: Fall and Spring
Year Founded: 1987
Online Submissions? Yes
Contact
Mailing Address: #10894 ASU Station San Angelo, TX 76909
Email: me.hartje@angelo.edu