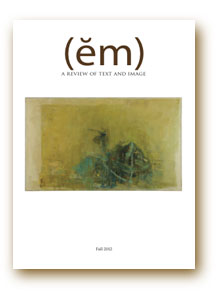 Magazine Name: (em): A Review of Text and Image
Websites:
This publication is closed.
Information about your publication: (em): A Review of Text and Image is a digital literary magazine. We publish for e-readers, ios/android tablets, and traditional computers. We're open to all kinds of work.
What type of submissions are you looking for?:
Please send us your best poetry, translations, fiction, creative nonfiction, lyric essays, graphic short stories and essays, comic strips, photographs, paintings, miscellaneous artwork, book reviews, etc. If you think we?ve left something out, please query us.
Tell us about upcoming events or contests: Issue #1 is available for free download, and we are currently accepting submissions for Issue #2.
Information
Do you take online submissions?: Yes
Twitter: https://twitter.com/em_review
Facebook: https://www.facebook.com/pages/?m-A-Review-of-Text-and-Image/171506602928120
Website:
Editors Name: Daniele Pantano, J.R. Miller
Print publication?: No
Mailing Address::
Email: editor@em-review.com
Circulation:
Submission Guidelines URL:
Approx. Response Time?: 2-4 months.
How often do you publish?: Annual
Year Founded?: 2011