F(r)iction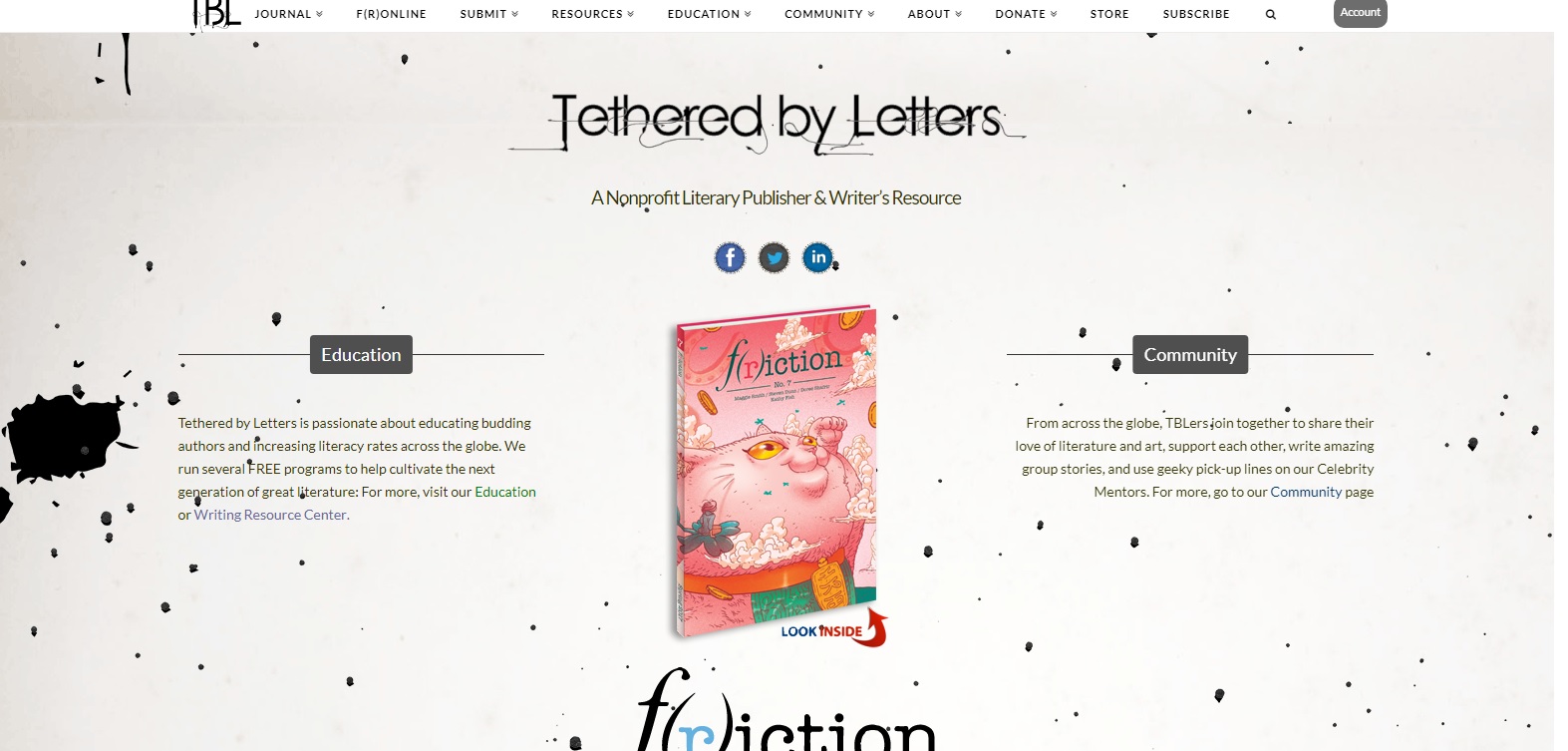 Website
https://tetheredbyletters.com/
From the publisher
If you love literature, you've probably seen just about every journal out there. Maybe you're a devoted reader, bored with themes like adult-life paranoia and coming-of-age angst. Or maybe you're a writer—and you've been writing traditional works to fit within traditional boundaries—but you can't find a home for the more experimental work you really love. You feel like you've seen everything a literary journal has to offer. But you haven't seen F(r)iction.
F(r)iction is different. The brainchild of a ragtag team of editors, artists, and writers, F(r)iction is the best of everything we've ever loved. F(r)iction is experimental.
F(r)iction is strange. F(r)iction pokes the soft spots, touches nerves most would rather remain protected. F(r)iction is secrets and truths and most importantly—stories.
F(r)iction is weird, in every respect.
Printed triannually and distributed around the world, F(r)iction publishes short fiction, flash fiction, poetry, and nonfiction, in addition to a selection of graphic stories.
Since our creation in 2015, we've published original work by established authors such as Helen Phillips, Maggie Smith, Benjamin Percy, Jason Mott, Isaac Marion, Linda Pastan, and Scott O'Connor, as well as amazing graphic features, including two Eiser-nominated comics. These acclaimed authors pave the way for the emerging voices published in each issue, many of them seeing their work in print for the first time.
And if that wasn't crazy enough, every single literary work is accompanied by custom original artwork, creating a collection that is as visually engaging as the stories within.
We publish F(r)iction because we don't want to see great literature die.
So join us, and keep the pulse of creativity alive.
Submissions
F(r)iction is open for submissions year-round. We accept work in short fiction and creative nonfiction (up to 7,500 words), poetry (up to three pages per poem), and graphic stories or comics.
At F(r)iction, we pride ourselves on publishing the best writing regardless of genre, style, or origin. This means that we accept work of all kinds, including genre writing and experimental literature. We seek work that actively pushes boundaries, that forces us to question our traditions and tastes. We seek that feeling of being stunned, that gut-punch that inevitably follows an incredible piece of writing. If your work takes risks, then we want to read it.
Information
Editors Name Dani Hedlund, Leah Scott, Mia Herman, Andrew Jimenez
Print publication? Yes
Circulation
Do you take online submissions? Yes
Submission Guidelines URL https://tetheredbyletters.com/friction-guidelines/
Approx. Response Time? 1-2 months
How often do you publish? Tri-annually
Year Founded? 2015
Do you pay? Yes
Contact
Twitter @FrictionSeries
Mailing Address:
Email mherman@tetheredbyletters.com
Facebook https://www.facebook.com/FrictionSeries/