Gore Noir Magazine
Website: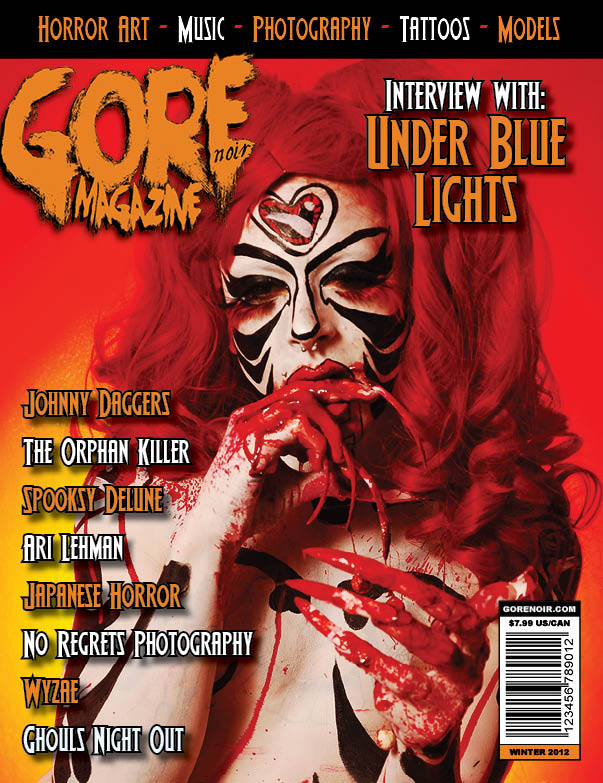 From the Publisher
Gore Noir Magazine covers Horror art, horror models, tattoos, photography, special effects, celebrities, music, etc. Gore Noir is a horror culture magazine that features artists, photographers, models, musicians, celebrities, and tattoos all with a horror theme. Gore Noir is also a photography group working together to produce the most darkest/goriest black, white and blood red photos they can.
Submissions
Bloody bloody horror, they take submissions of horror fiction and essay on horror, and sometimes they publish events. Gore Noir also supports the wider community of horror. Make sure you check their submissions before submitting to their site.
Upcoming
NOSFERATU FESTIVAL
2023
101 YEAR ANNIVERSARY
VAMPIRE WEEKEND
Information
Editors Name: Mitch Rafter
Print publication?: Yes
Circulation:
Submission Guidelines URL:
Approx. Response Time?:
How often do you publish?: quarterly
Year Founded?: ?
Do you take online submissions?: Yes
Contact
Mailing Address:5701 W Slaughter Ln A130-111
Austin, TX 78749
Email: info@gorenoir.com
Twitter: www.twitter.com/gorenoirmag
Facebook: www.facebook.com/gorenoir
Every Writer: Gore Noir Magazine is a prime example of why people love horror magazines. It's filled with great visuals, and horror stories. This magazine is certainly a stand out among many of the other horror magazines publishing today. If you are looking for that shock of horror, you don't have to look any further than Goir Noir.
The blog is interesting, but much of the meaty editorials and articles are keept for the magazine. Gore Noir has a list of contact emails listed on their site for each question you might have. The magazine and site has been publishing since 2010. It's a well esablished horror magazine, and certainly worth a read. If you are a fan of horror you really can't go wrong with Gore Noir.
There are other horror magazines that you may be interested in, please check our horror magazine listings.