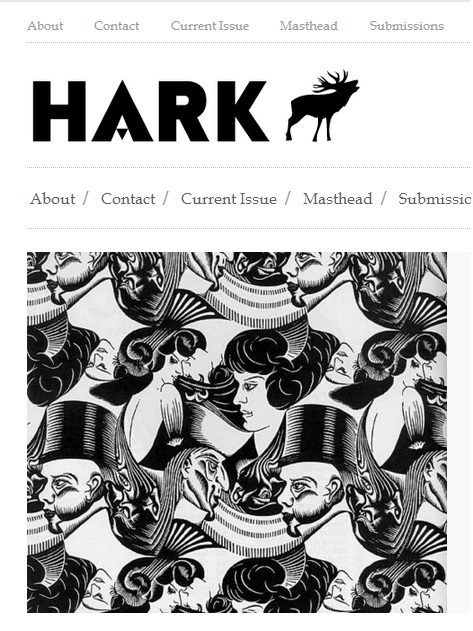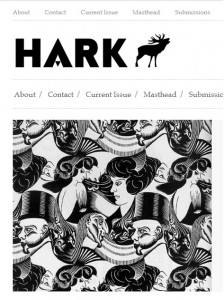 Website
http://harkmagazine.co.uk
From the Editor
HARK is a UK-based online magazine of poetry and short fiction. We're new on the scene, and are currently accepting submissions for our first issue. Fundamentally, we're interested in writing that "makes strange" – that has odd edges and peculiar insides. We like experimentation and force and feeling. We founded HARK with the hope that new and emerging writers, as well as established voices, can find a space for their edgy, odd, experimental and simply beautiful writing in the UK. This doesn't mean that submissions should be "fantastical" (but we welcome those!), only that there is a hint of something deep, ancient or strange going on under the surface of things – something that occasionally erupts into the real world, or perhaps only glimmers through into it. It's why we coined the name, HARK – it is a shout, a rough word that has an ecstatic or mysterious source. We also aim to feature an author interview with each issue. In particular, we're keen to interview writers and poets who have just started out with publishing, who perhaps have a single book or pamphlet to their name. These writers don't often get asked why they write, or get to answer questions about language and how they see the world. We'd like to change that.
Submissions
We're looking for poetry, flash fiction and short stories. We don't currently accept non-fiction. We are interested in magical realism, strangeness, modern mythology, raw and physical writing. We don't want to be too restrictive; only to suggest the kinds of strange light we like to see in stories, poems and words. We like to see innovative uses of language that packs a punch. We think the best writing is that which takes something ordinary or unobserved and pairs apart its insides, or sees in it odd glimmers just beyond reach. It doesn't have to be fantastical, rather, a way of looking at reality differently. Perhaps simply in a close attention to physicality, or to histories and mythologies. We also encourage mixed media to accompany submissions, if the writer or poet thinks it is relevant. We'd particularly like to see interesting combinations of sound, image and writing, such as film. We're happy to be a home for experimentation. But most of all, we like good writing that makes us think and feel.
Upcoming
We don't have any events or contests planned just yet, but do have hazy plans for competitions and special issues further down the line.
Information
Editors Name Owen Vince and Matthew Apperley
Print publication? No
Circulation Online
Approx. Response Time? We're aiming for 4 weeks
How often do you publish? We aim to publish every two months
Year Founded? 2014
Do you pay? No
Do you take online submissions? Yes
Contact
Twitter @HARKmag
Facebook
Email submissions@harkmagazine.co.uk