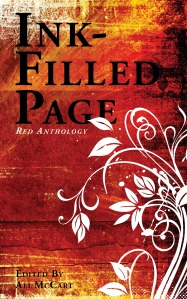 Magazine Name:
Ink-Filled Page
Website:
Defunct
Editor:
Ali McCart
Print Magazine?
Yes
Mailing Address:
Ink-Filled Page Indigo Editing & Publications P.O. Box 1355 Beaverton, OR 97075
Email:

inkfilledpage@indigoediting.com

Circulation:
500
Submission Guidelines:
Approximate Response Time
We will respond to submissions within 90 days.
Publishes:
The journal is published online quarterly, and we print an anthology annually.
Year Founded:
2006
Online Submissions?
Yes
Information about your publication:
Ink-Filled Page literary and arts journal features fiction, nonfiction,"Black Swan" by Gabriel Weissand artwork in four quarterly electronic issues and one print anthology each year. The publication unites literary and visual arts, taking readers on a journey of sensory and intellectual stimulation. Contributing writers and artists hail from across the United States as well as from several other countries. Themes range from love and familial relationships to adventure and betrayal in a variety of settings—hospitals, bars, sexy French cafes, road trips, and African villages. Immerse yourself in these pages and you'll find that the beauty of life often sleeps in the spaces between words and cartwheels over brushstrokes.
What type of submissions you are looking for:
Literary Submissions Fiction submissions can be short stories or novel excerpts, and the nonfiction section is open to personal narratives and essays. While all genres are welcome, special interests include: * travel * multicultural themes * feminism *

magical realism

*

flash fiction

Poetry submissions are considered only for the youth issue. We are specifically looking for fresh,

untold stories

and unique voices that draw us into the world of the story. While we know and love many Jo(h)ns, we are inundated by character Jo(h)ns. We ask that you only submit characters by that name if it is necessary for the story. Limit submissions to 5,000 words, up to three submissions per candidate. Authors who submit more than three pieces will not be considered. Electronic submissions only. All literary submissions must be written for an English-reading audience. By submitting a story to Ink-Filled Page, you confirm that you are the sole creator of the story and that you hold all rights to your piece. Artwork Submissions Artwork submissions are open to all mediums, but pieces must be submitted electronically. Winning pieces are selected based on composition and originality. Pieces will be published in color in the online quarterly issue and in black and white in the print anthology. Please submit pieces that will translate well in both contexts. We are looking for pieces that highlight the human experience—show us the good or the bad, be surreal or real, but make sure that whatever you submit connects us, human to human. Limit five submissions per candidate. Artists who submit more than five pieces will not be considered. Submit print-ready digital artwork at 300 dpi or higher. By submitting your artwork to Ink-Filled Page, you confirm that you are the sole creator of said artwork and that you hold all rights to your piece.