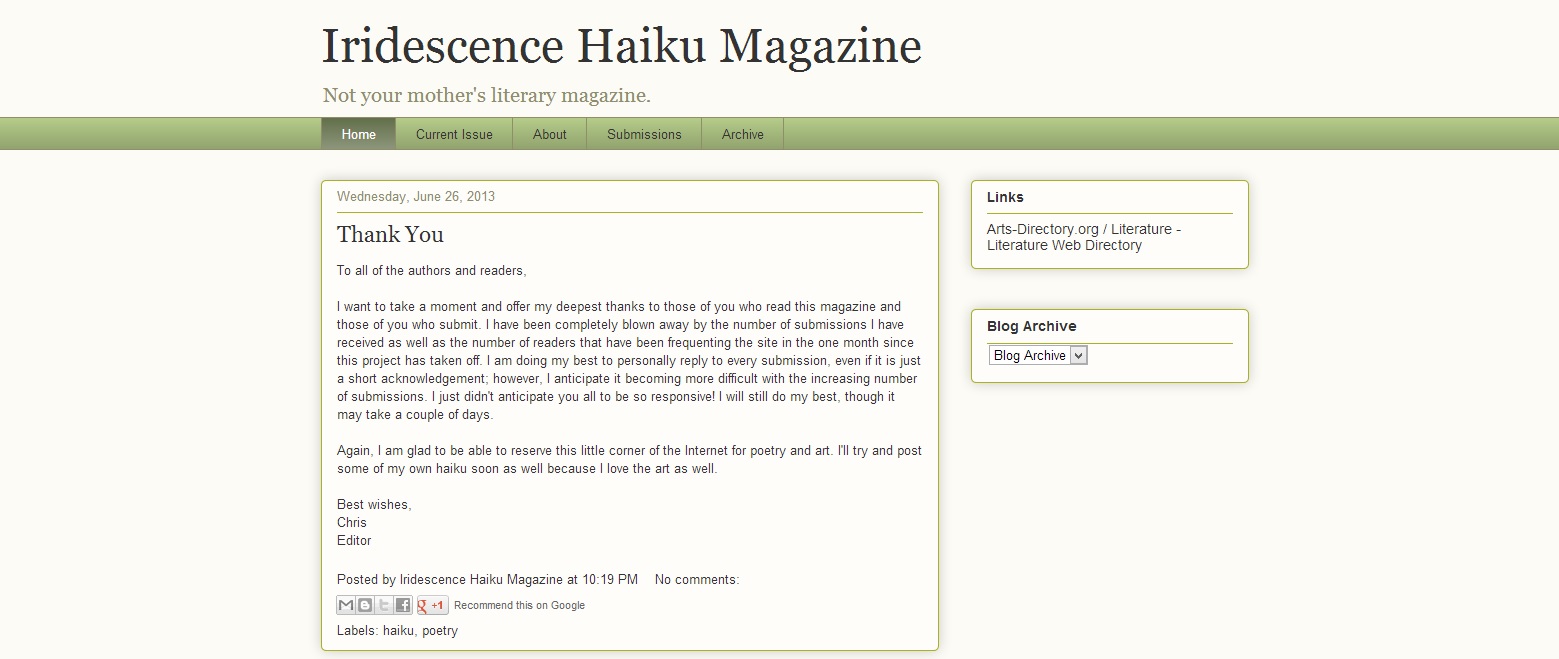 | | |
| --- | --- |
| Magazine Name | Iridescence Haiku Magazine |
| Twitter | |
| Facebook | |
| Website | DEFUNCT |
| Editors Name | Chris |
| Print publication? | No |
| Mailing Address: | |
| Email | iridescencehaiku@gmail.com |
| Circulation | |
| Submission Guidelines URL | |
| Approx. Response Time? | One week. |
| How often do you publish? | Continually |
| Year Founded? | 2013 |
| Do you pay? | No compensation. |
| Do you take online submissions? | Yes |
| Information about your publication | Iridescence is a contemporary literary magazine dedicated to one form of poetry: haiku. Whether it be traditional or modern, we look for one thing when reviewing submissions: emotion. We are looking for haiku that pull at our hearts, no matter what the subject matter. We are quite open to content or subject matter, as long as the poem holds to the traditional haiku format (three lines that follow a 5-7-5 syllabic pattern). Give us something with a little edge, in any meaning of the word, and let's do this beautiful form of poetry justice. This ain't your mother's literary magazine, so show us what you got! Iridescence Haiku Magazine is a rolling submission based journal, which means we are constantly reading for upcoming issues. When a poem is accepted for publication, it will be instantly published to the online issue of the magazine. Each issue will contain 50 poems, and once this limit is reached, submissions will be considered for the next issue of the magazine. All of the e-issues will be free for viewing on this site. In the future, we plan to produce print copies of all e-issues, which will be sold for revenue, and for those of you who really desire a hard copy. (Let's keep books alive!) Occasionally, the editor will submit works to the journal, as a lover of poetry and haiku himself. However, note that these submissions will not count towards the fifty poem limit per issue. |
| What type of submissions are you looking for? | Ideally, we look for traditional haiku that follow the 5-7-5 syllabic pattern. However, aside from form, the content and subject matter are completely up to you. Just make sure your poem expresses something. Of course, not every poem will leave a reader speechless. Heck, a well crafted poem about walking your dog can sometimes hit a deep note in a reader. The point is, don't be afraid to submit what you like to write about. We're a fairly open minded magazine! |
https://www.everywritersresource.com/literarymagazines/iridescence-haiku-magazine/
Defunct
Magazine Name Iridescence Haiku Magazine Twitter Facebook Website DEFUNCT Editors Name Chris Print publication? No Mailing Address: Email iridescencehaiku@gmail.com Circulation Submission Guidelines URL Approx. Response Time? One week. How often do you publish? Continually Year Founded? 2013 Do you pay? No compensation. Do you take online submissions? Yes Information about your publication Iridescence is a contemporary literary magazine dedicated to one form of poetry: haiku. Whether it be traditional or modern,...
Every Writer
Every
Writer
votenewmusic@yahoo.com
Administrator
I am the editor/owner of EWR, a writer, a publisher, and a teacher.
Literary Magazines