Meat for Tea: The Valley Review
Website:
From the Editor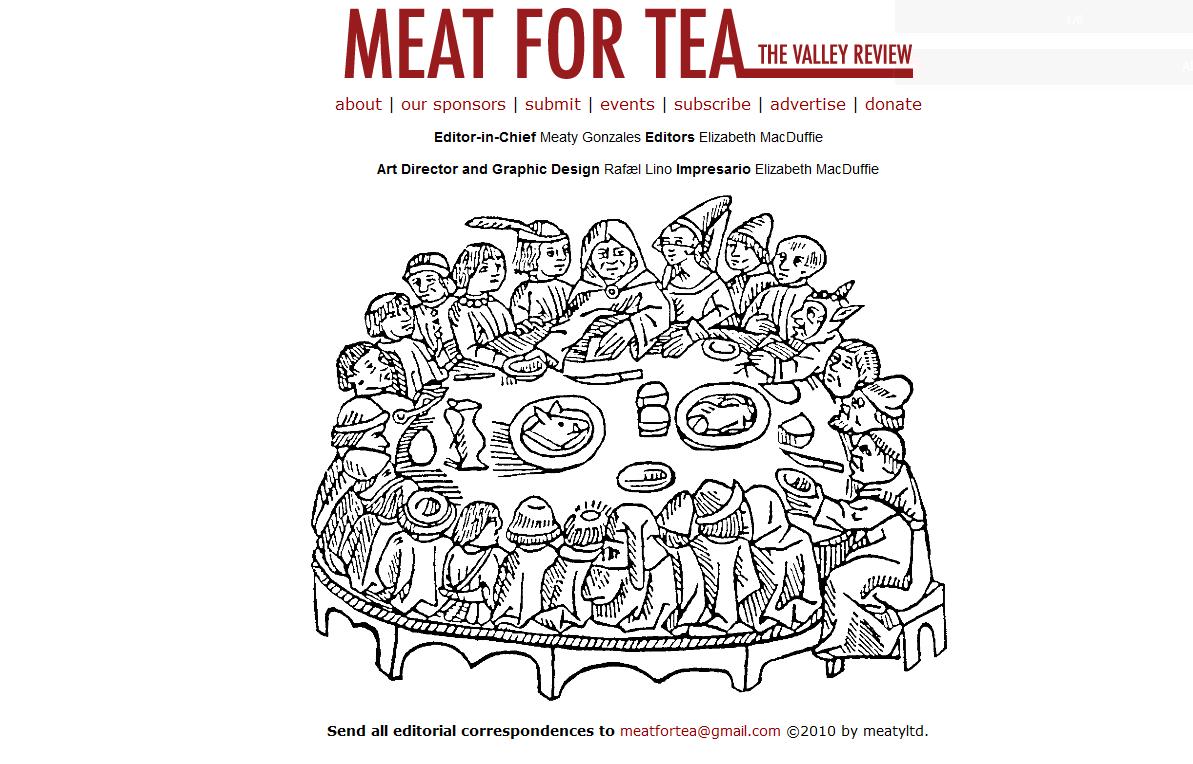 Meat for Tea: The Valley Review was founded by Alexandra Wagman and Elizabeth MacDuffie. We are a non academic affiliated publication committed to featuring and publishing the works of artists and writers in the Pioneer River Valley and beyond.
Submissions
We seek submissions of prose, poetry and short fiction of no longer than 2500 words in length. All writing should be sent as an editable attachment, ideally Microsoft Word format. No copying and pasting into the body of an email message. Must include a writer bio, 300 words maximum. Visual Artists: All images must be scanned or photographed at 300 dpi resolution. A full-page image is roughly 6?w x 7.5?h so images should meet or exceed at least one of these dimensions, depending on orientation. Image files should be in .JPG, .EPS, .PSD, or .PDF and in CMYK or Grayscale color mode. Must include an artist bio, 300 words maximum. Video: Email us. Music: Email us. Multimedia/Other: Email us. Note/Warning: Any submissions not following these guidelines will be returned. Please do not send original artwork or writing, as it will not be returned unless arrangements are made prior. Please email us with any questions or concerns you may have before submitting.
From the site: Writing submissions should be works of poetry and short prose no longer than 1500 words in length, 8000 words for short fiction and essays, 1200 words for flash and microfiction.

Please only send CLEAN COPY. We do not edit copy. If it is accepted for publication, it appears letter-for-letter as submitted.
Submissions with obvious typographic errors will be rejected.
We reserve the right to format copy to our layout standards.
Information
Editor: Meaty Gonzales
Print Magazine? Yes
Mailing Address: 32 Masonic Street Northampton, MA 01020
Email: meatfortea@gmail.com
Circulation: 250
Submission Guidelines: meatfortea.com/submit.htm
Approximate Response Time 4 weeks
Publishes: quarterly
Year Founded: 2006
Online Submissions? Yes