Postcard Poems and Prose
Website
http://postcardpoemsandprose.com/
From the Publisher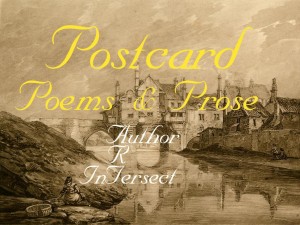 Who are we: Postcard Poems and Prose Imagine a painter, photographer, novelist, and poet all running willy-nilly and meeting full-speed. That collision is Postcard Poems and Prose . We want you to find prose, poems, and art all in a 4×6 postcard format. We want you to be able to stand and look at that revolving wire rack that's in every tourist trap on earth. We want you see it from your laptop or handheld device. Just like the postcards of yesteryear we want you to be able to share that experience with friends. We want it to be quirky and personal. And we want it to be great. Postcard Poems and Prose is an online zine that accepts and publishes 10-12 pieces each month. Editor in Chief: Dave Morehouse Assistant
Submissions
What are we looking for in a submission? Handwritten, machine typed, computer printed, calligraphy, pencil, pen, block printed, scrawled with a fine point sharpie, photo, digital creation?all these and more are acceptable. We are looking for unique and personal. It also needs to be readable as a JPEG file. You may have the skill to engrave the Bible on the head of a pin but that doesn?t always translate well to a computer flat-screen or smart phone. Is it cleverly written? Poetry, short prose, an odd invitation or announcement, what have you? We lean toward poetry and flash fiction but will consider anything that is well crafted. We are seeking cleverness in a unique format. Think in terms of 4-16 line poems or up to 190 words of prose. Is it unique or graphically interesting? Send something we haven?t seen. We confess a complete lack of ability to draw or paint. Heck, we can?t even color inside the lines. That means we?re suckers for that stuff. Crayon, sharpie, acrylic, oil, decoupage, quilts, rag rugs, birds, flowers or anything you can stuff into a JPEG. What if my art doesn?t have a literature component? Art submissions need a literature component. Period. That said, fiction and poetry aren?t the only ways to connect the two. Perhaps you have a unique or clever description of the process involved with your art. Perhaps you want to fully describe the inspiration for your work. As long as it?s quirky, clever, or unique we will consider it.
Upcoming events or contests
B Fiction Contest June is National Flash Fiction Day in the U.K. and many places around the globe. To commemorate this auspicious day, Postcard Poems and Prose will sponsor a flash fiction contest based on the theme "Backward". Since this is our second fiction contest and the deadline is June 22, the winning author will receive an Amazon gift card valued at $26.22 in US dollars. (2 & 6/22 We like to be different.) We will publish three winning entries in July. Only one entry will receive the gift card though?we are starving authors too. As before, the gift card recipient will be chosen from the three winning entries by a staff game of Rock, Paper, Scissors.
Information
Editors Name Dave Morehouse
Print publication No
Circulation
Online yes
Submission Guidelines URL
Approx. Response Time 7-21 days
How often do you publish? Monthly
Year Founded 2012
Do you take online submissions? Yes
Contact
Mailing Address: Postcard Poems and Prose Attn: Dave Morehouse, Editor 14605 Lafernier St. Baraga, MI 49908
Email dave@postcardpoemsandprose.com
Postcard Poems and Prose
Professionalism

Design

Editorial
Summary
Post Card Poems and Prose Magazines is a unique take on literary magazines on the web. They offer, as the name would suggest, 12-15 pieces of poetry and prose, on postcards, per month. They basically put the writing on a photo and use the photo and work as a shareable ecard/postcard. It is a nice take on poems and prose on the web, making them social share friendly, but it could be executed a little better.
The photographs used in the cards are a little questionable, not always professionally done. With the availability of free high quality photography in abundance on the web, it makes you wonder why the editors pick these photos. The magazine is on a free site which also distracts from the professionalism of the publication.
Overall, the site offers some very solid writing, and the idea of sharing poems and prose on postcards is excellent.. They are worth a visit and defiantly submit your work. It would be fantastic if they would partner up with Vistaprint or another print on demand service, so people could order and even mail their work in the physical world.
Postcard Poems and Prose Magazine is a quality publication.
Postcard Poems and Prose
Average rating:
1 reviews
Nov 20, 2017
Enjoyable
Number of Months for response:
NA
I really enjoy reading these. The postcards are great.