Provocateur: A Literary Magazine
Website:
No longer publishing
From the Editor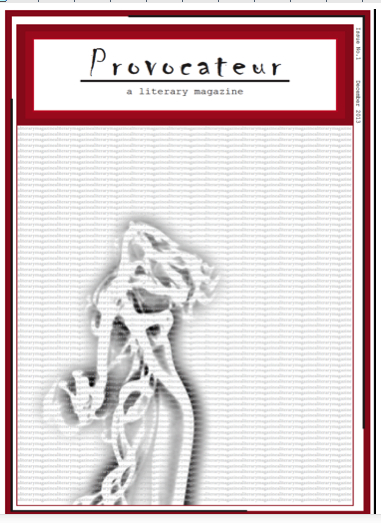 Provocateur aims to shed light on LGBTQ writers. Although the world is beginning to catch up on equality, not everyone is ready to publish stories or poems about society's "new normal." The journal will not discriminate between gay, lesbian, bisexual, transgender or queer. The aim is to highlight and celebrate the talent of a marginalized community.? Even though we hope to highlight works from the LGBTQ community, the magazine is also open to publishing the works of our "straight allies". Provocateur aspires to be a place where writers and artists feel comfortable sharing works about love, lust, passion or sex and not bow down to censorship on grounds of difference or unconventionality.
Submissions
We are seeking Fiction, Poetry, Creative Non-Fiction and Visual Artwork.
Information
Editors Name: Jillian Butler
Print publication?: Yes
Circulation:
Submission Guidelines URL:
Approx. Response Time?:
How often do you publish?: Biannually
Year Founded?: 2013
Do you pay?: Not Yet
Do you take online submissions?: Yes
Contact
Twitter: Provocateur_Mag
Facebook:
Mailing Address:: 13 Fowler Terrace
Burlington, MA 01803
Email: provocateurlitmagazine@gmail.com