Repurposed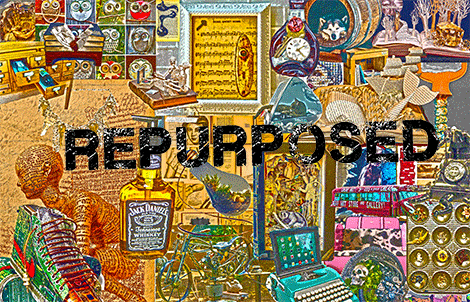 Website
From the Editor
Our Mission:
To bring the world of repurposed art to readers everywhere!
Repurposed is an online magazine committed to discovering and showcasing art, artists, and art forms that create something beautiful out of existing materials. Nothing is really new; everything is a remix, every technology builds itself upon the basis of new forms, every new story on existing themes. We want fiction and literature that engages with what came before it, that adapts narrative and style and makes new meaning out of them, or reveals something that had gone unnoticed in the old. We want art that gestures to the past while using pieces of the present. We want non-fiction that illuminates this age of consumption that we live in and gestures towards possibilities for the future.
We want poetry that challenges and reconstructs itself, ekphrasis, erasure, thematic revisions. We want work that has been upcycled, reinvented, reformed.
We aim to discover and showcase cultural, artistic, and literary excellence.
Submissions
Short stories, poetry, non-fiction, essays.
Upcoming
Call for Submissions: Issue Four
Deadline to submit: May 1st 2017
**With all submissions please include a cover letter with description of the work and how it suits the mandate of both issue (if issue is themed) and magazine as well an artist's/writer's bio.**
All submissions must be previously unpublished (unless such work i.e. street art is by it's nature public), including self-publication on social media and personal websites, portfolios and profiles. We do accept simultaneous submissions, but please inform us immediately if accepted elsewhere.
Please send all submissions to: submit@repurposedmag.com
Information
Editors Name Cassandra Metcalfe
Print publication? No
Circulation
Do you take online submissions? Yes
Submission Guidelines URL www.repurposedmag.com/home-2/submissions/
Approx. Response Time? 2-4 months (varies)
How often do you publish? Annually/Semi-annually
Year Founded? 2014
Do you pay? No
Contact
Twitter @repurposedmag
Mailing Address:
Email editor@repurposedmag.com
Facebook @repurposedmag