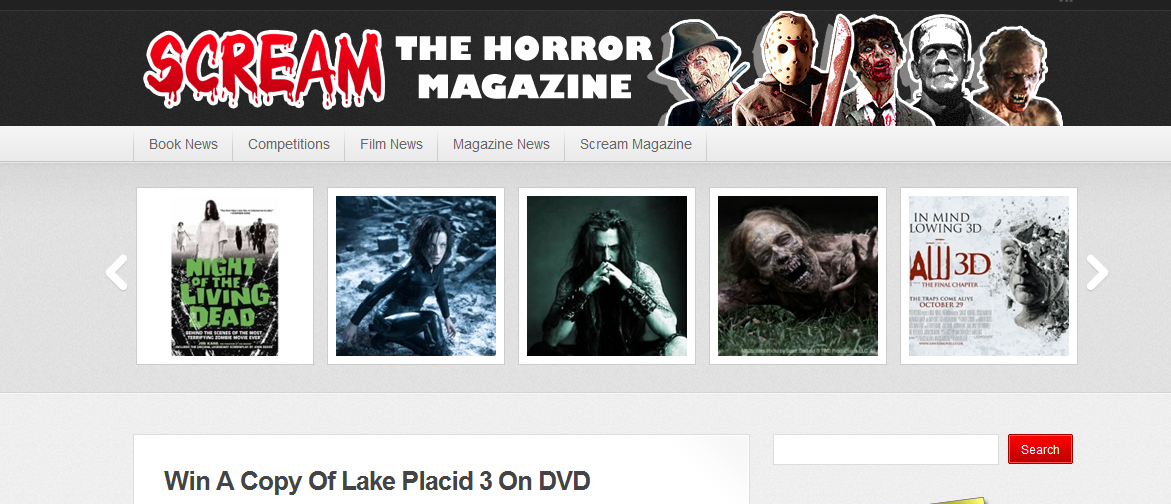 SCREAM
Website:
From the Editor
SCREAM is Britain's all new premier Horror Magazine. SCREAM is your best source for horror movies, news, reviews, previews, celebrity interviews, books, games, film festival reports, comics and pretty much everything else you can think of in the world of horror. The magazine is published bi-monthly and available at all good newsagents and book stores across the UK. Copies of each issue will also be available to purchase on the site and in the future we will also be offering a worldwide subscription service to SCREAM where not only will you receive the magazine delivered to your door every 60 days but you'll save money in the process and also receive the occasional gory goody too! How can you resist?! So, once again, a very warm welcome to SCREAM.?We are going to enjoy having you along for the very bloody ride!
The world's scariest publication, SCREAM – Blood, guts, gore & more! We are THE WORLD'S NUMBER ONE PRINT & DIGITAL HORROR MAGAZINE. We cover films, celebrity interviews, DVDs, Blu-rays, festivals, books, games, comics, graphic novels, fiction/non-Fiction, photography, clothing/fashion, news, reviews, previews, competitions, on-location film reports & much, much more!
Published bi-monthly in glossy full bloody colour! Worldwide subscriptions to SCREAM Magazine (single issues, digital iSCREAM editions and other related products) are available to order online at: http://www.screamhorrormag.com/store
Submissions
Scream takes submissions. You must check under their Contact page for the submissions email. No guideline information about submitting your work is giving. If you are interested in submitting to Scream, check the site, and then contact the editors before sending your work! Sending your work without query can result in disregarded submissions.
Information
Editor: Richard Cooper
Print Magazine? Yes
Mailing Address: 38 Ardgour Road Kilmarnock Ayrshire KA3 2AJ United Kingdom
Email: admin@screamhorror.com
Circulation: 20,000 copies worldwide
Submission Guidelines: www.screamhorror.com
Approximate Response Time 5 days
Publishes: bi-monthly
Year Founded: 2010
Online Submissions? Yes