Still Point Arts Quarterly
Website
From the Editor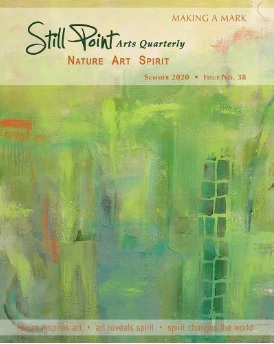 Still Point Arts Quarterly is a truly beautiful and engaging art and literary journal. It was founded in 2011 by Shanti Arts, a press based in Brunswick, Maine, that also publishes books and is dedicated to honoring the timeless connections among nature, art, and spirit. Produced four times a year, in both a free and widely available digital edition and a print edition, each issue of the Quarterly focuses on a theme and features historical and contemporary art, fiction, non-fiction, and poetry. Recent and upcoming themes include: Phenomenal Woman, Our Beautiful Planet, The Secret Life of Objects, Making a Mark, and Food and Memory. Writing and art submissions come from people around the globe and are selected to create a coherent and curated publication that is itself a work of art. The Quarterly has been praised for its rich content as well as its splendid layout and design. It is intended for artists, readers, literati, nature lovers, seekers, and enthusiasts of all types.
Submissions
Still Point Arts Quarterly publishes both art and writing—fiction, creative non-fiction, essays, memoir, and poetry. The intent is to present art and writing in a seamless and integrated manner while making meaningful and important statements about the issue's theme. Of utmost importance in the selection process is the fit between the submission and the theme of the issue. This is the first quality we consider when reviewing submissions. We look for work that, taken together, allows us to present a coherent and curated publication that makes an important statement about the issue's theme.
Upcoming
Upcoming themes are Making a Mark, The Secret Life of Objects (inspired by a book of the same name by Dawn Raffel), Food and Memory, and My Deep Love of Place (inspired by photographer Sally Mann).
Information
Editors Name Christine Cote
Print publication? Yes
Circulation around 800 between both print and digital editions
Do you take online submissions? Yes
Submission Guidelines URL http://www.shantiarts.co/SPAQ/SPAQ_calls.html
Approx. Response Time? 2 to 3 months
How often do you publish? quarterly
Year Founded? 2011
Do you pay? no
Information
Twitter https://twitter.com/ShantiArts
Mailing Address:
193 Hillside Rd, Brunswick, Maine 04011
Email publisher@shantiarts.com
Facebook
Picture url http://www.shantiarts.co/landing_SPAQ.html