Tangled Web Magazine
Website
https://www.tangledwebmagazine.com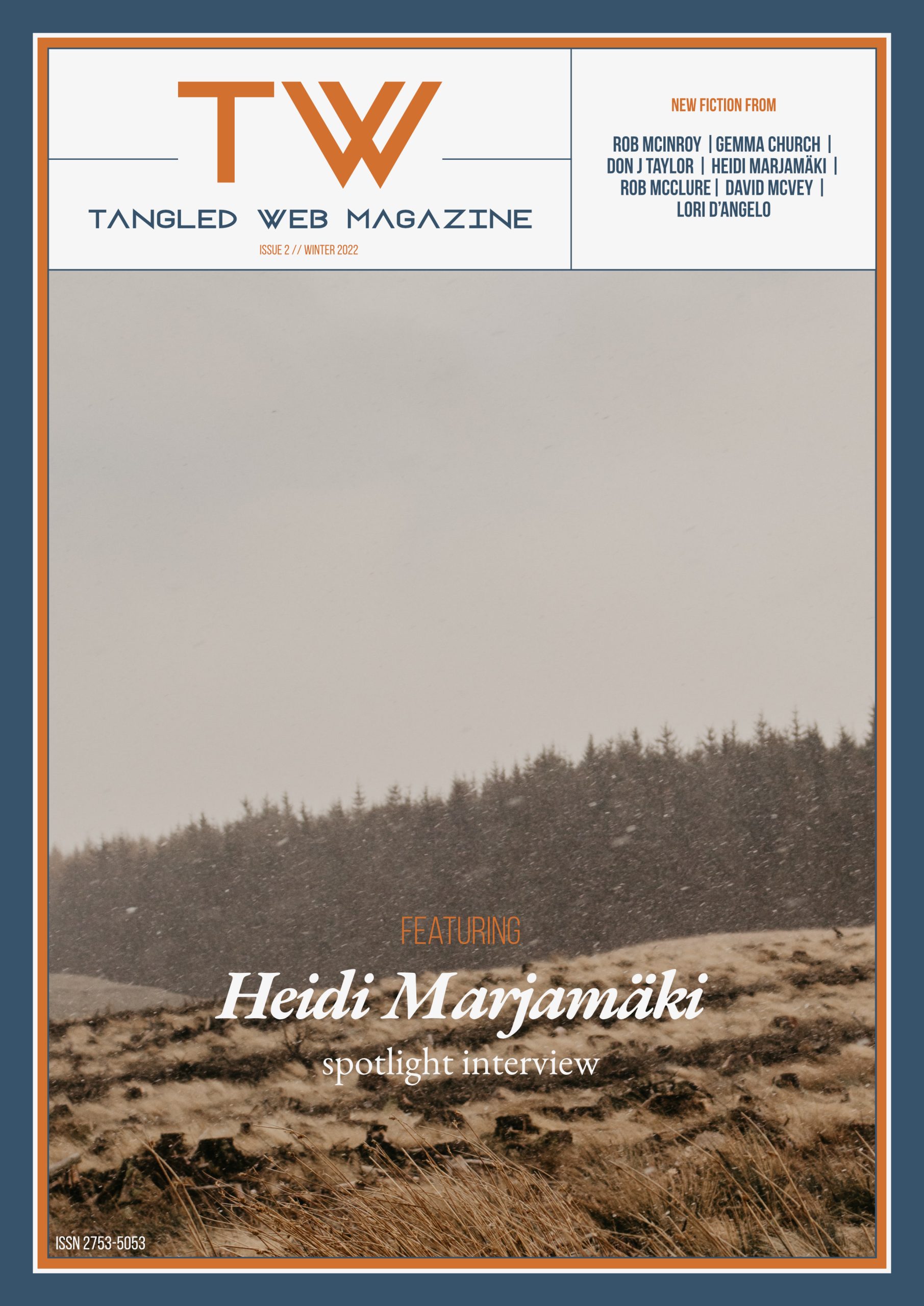 From the Editor
Tangled Web Magazine is a speculative fiction and Tartan Noir magazine featuring dark, twisty stories that explore the tangled web of our lives. We love stories with a sense of intrigue, stories that make us feel, that challenge us, that leave us wanting more. We publish quarterly, and we're open to submissions all year round. One thing unites all the creative work in our magazine and that is the inspiration it draws from Scotland. Not the Scotland of shortbread tins and guided tours of Edinburgh, but the darker, bleaker Scottish psyche, the cold and barren landscape, and the twisted, sometimes tragic stories we have to tell. This is a Scottish magazine, but it is not exclusively a magazine for Scottish writers. We're open to all, and we particularly welcome submissions from previously unpublished or traditionally underrepresented writers. All we ask is the work is in line with the brooding atmosphere of Tartan Noir or darker, meditative varieties of speculative fiction. We launched Tangled Web Magazine in 2022 and the reception blew us away. Our first issue was released in the September, followed by a second issue in January 2023. There were almost 1,500 readers of our issue 1 digital magazine, and these were complimented by more modest numbers for our mobile version. We continue to build our readership and look for new ways to get our authors' stories in front of readers. For us, that's what it is all about. Giving a platform to established and up-and-coming authors alike, entertaining our readers, and showing the best of speculative fiction and Tartan Noir. In late 2022, we decided to switch up our business model and make Tangled Web Magazine free to read for everyone, always. Instead of supporting our magazine through subscriptions, we now ask our kind readers to support us on Patreon. While we're not a paying market yet, we have plans to get there as soon as possible. And that's just the beginning of our plans. There are exciting times ahead for Tangled Web Magazine.
Submissions
We're after twisty stories with fully realised characters. We want to feel the emotional depth of your story, journey through difficult experiences, and explore the tangled web of our lives. Stories that focus on victims, perpetrators, and unreliable narrators will grab our interest. We want characters struggling against the wider context, a particular event, or through emotional turmoil. And we want stories that grapple with philosophical problems. No black and white here, let's explore the grey matter in between. In terms of Tartan Noir, and unlike many publishers, we don't believe it is simply a synonym for all crime fiction set in Scotland or written by Scottish authors. If it was, it would be a meaningless term and little more than a marketing ploy. As it happens, neither do we believe that Tartan Noir is simply Scottish noir. For us, Tartan Noir is crime fiction that focuses on the individual rather than the institution. It is deeply self-analytical, and its preoccupation with the dysfunction of the main characters is reflective of the bleak, troubled Scottish setting, and of a general social malady. We believe that like its Nordic sibling, Tartan Noir often focuses on, as Len Wanner puts it, 'the powers, the politics, the philosophies, the ethics, the professional hazards, and especially the personal sacrifices of policing'. But we want to see short stories that go beyond the troubled detective or the setting that allowed a serial killer's actions to occur. Police, detective, and serial killer stories are fine, but you'll grab our attention if you employ the setting and atmosphere of Tartan Noir to also explore the experiences of victims. When it comes to speculative fiction, we're open to all varieties. We love stories with a speculative element, particularly if it heightens emotional depth. And if you take inspiration from Scotland, then all the better. However, at the most basic level, we want speculative stories that are bleak, heart wrenching, or simply beautiful in their telling – irrespective of where you're from and what inspired you.
Upcoming
Our winter issue has just been released and there are three spots left in our spring issue. So, we're keen to see our submission pile grow.
Information
Editors Name Craig Kelly
Print publication? No
Circulation 1,500
Do you take online submissions? Yes
Submission Guidelines URL https://www.tangledwebmagazine.com/guidelines
Approx. Response Time? 60 days
How often do you publish? Quarterly
Year Founded? 2022
Do you pay? No
Information
Twitter @MagazineTangled
Mailing Address:
Email editor@tangledwebmagazine.com
Facebook https://www.facebook.com/TangledWebMagazine
mmm
Genre: Fiction, Speculative