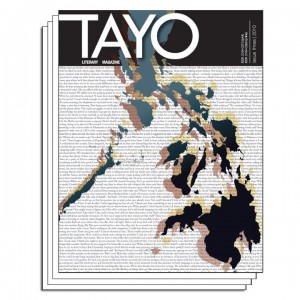 | | |
| --- | --- |
| Magazine Name: | TAYO Literary Magazine |
| Website: | www.tayoliterarymag.com |
| Twitter: | www.twitter.com/tayoliterarymag |
| Facebook: | http://www.facebook.com/TAYOLiteraryMag |
| Editor: | Kristine Co, Melissa Sipin & Paolo de la Fuente |
| Print Magazine? | Yes |
| Mailing Address: | 16244 Peppertree Lane, La Mirada, CA 90638 |
| Email: | tayoliterarymag@gmail.com |
| Circulation: | 500+ |
| Submission Guidelines: | http://tayoliterarymag.submishmash.com/submit |
| Approximate Response Time | 2-3 weeks |
| Publishes: | Annually |
| Year Founded: | 2009 |
| Online Submissions? | Yes |
| Information about your publication: | TAYO Arts & Culture is a nonprofit community arts organization whose mission is to advance the understanding of the diverse cultural identity of Filipinos and Filipino Americans. With its annual print magazine and online component, along with readings and events, TAYO Arts & Culture is dedicated to the creation, cultivation, and promotion of Filipino and Filipino-American arts and culture. |
| What type of submissions you are looking for: | Literary – poetry, fiction, creative non-fiction, spoken word. Artistic – photography, paintings, drawings, digital art. |
| Information on Contests: | All are welcomed to submit, regardless of ethnicity and age. * All materials submitted are considered for both our online and print magazines. * By submitting you are allowing TAYO Literary Magazine to reproduce your work. * Not all submissions may be featured in our print / online mediums. The same rules apply to our online edition. We accept submissions by electronic mail to tayoliterarymag@gmail.com, or through our online submissions manager. We prefer to accept submissions via our online submissions manager. We are interested in work that touches on themes including—but not limited to—the Filipino and Filipino-American experience, identity, memory, family, culture, history, trauma, and dislocation. ?-Submission Policy?-TAYO Literary Magazine does not charge a fee for submitting. As such, we cannot afford to pay a monetary sum to any of our contributors at this time. Your submissions go a long way in supporting the arts in the Asian American community, especially through inspiring younger artists, helping them to find their audience, to find their voice. |
https://www.everywritersresource.com/literarymagazines/tayo-literary-magazine/
Fiction Magazines
Literary magazine in Print
New and Interesting
Online Submissions
Poetry Magazines
Print magazines taking online submissions
T
Magazine Name: TAYO Literary Magazine Website: www.tayoliterarymag.com Twitter: www.twitter.com/tayoliterarymag Facebook: http://www.facebook.com/TAYOLiteraryMag Editor: Kristine Co, Melissa Sipin & Paolo de la Fuente Print Magazine? Yes Mailing Address: 16244 Peppertree Lane, La Mirada, CA 90638 Email: tayoliterarymag@gmail.com Circulation: 500+ Submission Guidelines: http://tayoliterarymag.submishmash.com/submit Approximate Response Time 2-3 weeks Publishes: Annually Year Founded: 2009 Online Submissions? Yes Information about your publication: TAYO Arts & Culture is a nonprofit community arts organization whose mission is to advance the understanding of the diverse cultural...
Every Writer
Every
Writer
votenewmusic@yahoo.com
Administrator
I am the editor/owner of EWR, a writer, a publisher, and a teacher.
Literary Magazines