The Antigonish Review
Website: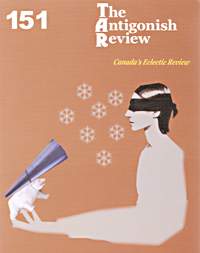 From the Editor
The Antigonish Review is a creative literary quarterly that publishes poetry, fiction, critical articles, and reviews. Our ideal reader has extensive interests and seeks the creative. Major accomplishments of TAR include giving a voice to emerging writers in Atlantic Canada and across Canada, and actively encouraging new writers with our poetry contests. Bringing the work of well-known authors to readers and continuing with international work in translation are also among our major accomplishments.
Submissions
We consider stories, poetry, and essays from anywhere an original or in translation but we consider it our mandate to encourage and publish new and emerging Canadian writers with special consideration for those writers from the Atlantic region who might otherwise go unrecognized. By situating regional authors within the context of a national/ international matrix, we hope to give the other parts of the world the opportunity to enjoy and learn from the insights and ethos of Atlantic Canada. Quality is always the primary objective for TAR. We continue to consider poetry to be a central component of our journal, along with fiction, but we also attempt to locate and publish critical articles on a wide range of topics.
Upcoming
The Antigonish Review Announces Two Writing Contests per year, one for poetry and one for fiction. Cash prizes are given for each contest. Their is generally an entry fee. In 2018 look for contest details. June 30, and May 31st were last years deadlines.
Contact
Editor: Jeanette Lynes & Gerald Trites, Co-Editors
Print Magazine? Yes
Mailing Address: The Antigonish Review P.O. Box 5000 St. Francis Xavier University Antigonish, NS B2G 2W5
Email: TAR@stfx.ca
Circulation: 1100
Submission Guidelines:
Approximate Response Time 2-6 months
Publishes: Quarterly
Year Founded: 1970