The Café Review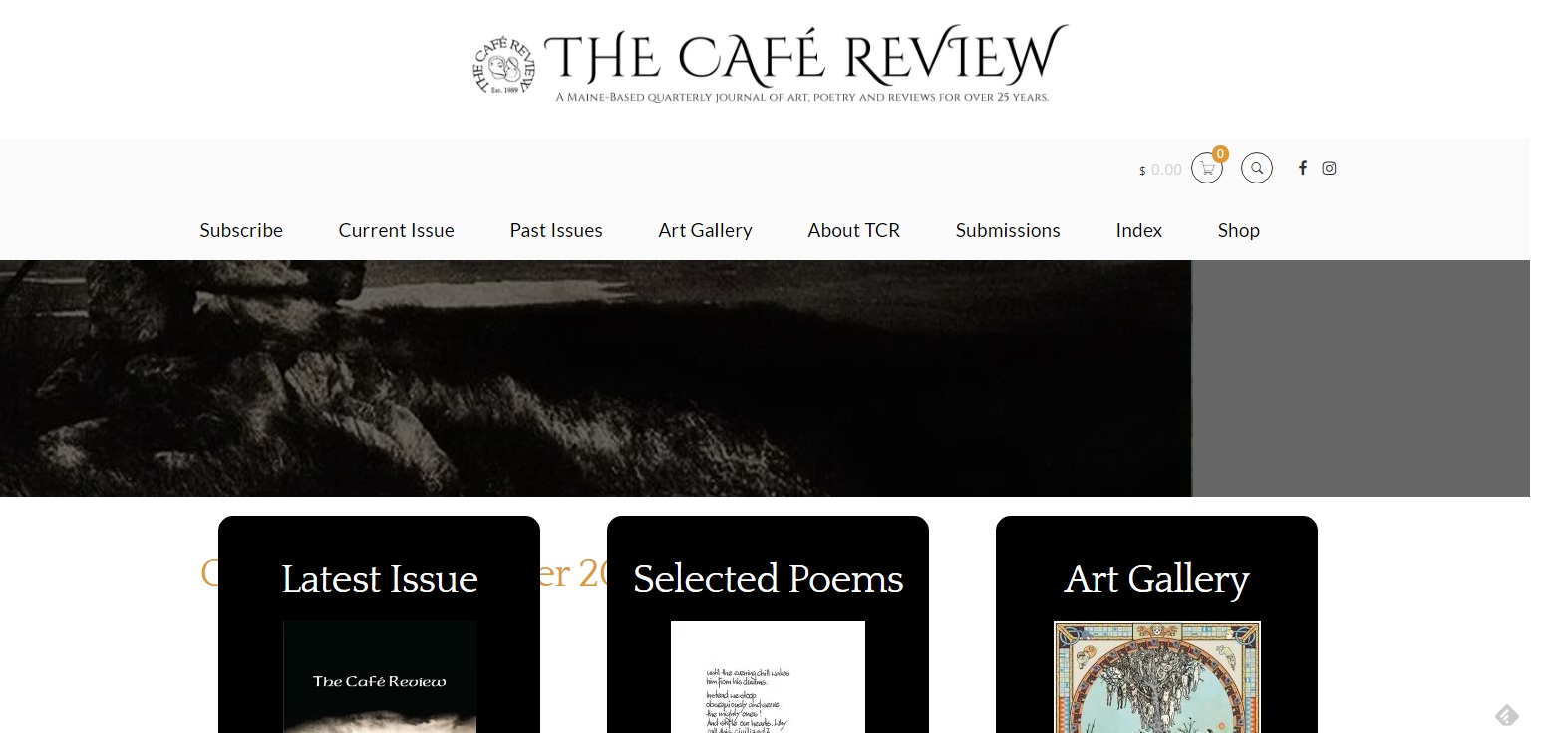 Website
From the Editor
The Café Review is a quarterly print volunteer publication based in Portland, Maine that has been publishing art, poetry and poetry book reviews for over 25 years. We forever search for new, strong voices in poetry and art, both in Maine and beyond Maine's borders. Occasionally we have been privileged to be able to create special tribute issues (such as our Sumac magazine and Auerhahn Press Issue) and we have also done special collaborations with poets from other parts of the world (Russian/American Issue, Irish Issue and Scottish among others). Our roots are with the great beat poets such Allen Ginsberg, Gary Snyder, Lawrence Ferlinghetti and Gregory Corso. We've even had the great privilege of publishing some of them in our past issues. Always looking to push the envelope of the unexpected we are constantly striving to bring great Maine poetry and art to the world and great art/poetry form around the world to Maine.
The Café Review has never sought, nor received any grant or foundation money. We have never had any affiliation with an academic institution. This journal came from and maintains its grass roots beginnings. Our support comes from one source– kind, educated people with a genuine interest in some of the world's best poetry – people who look to keep the idea of quality small press poetry from extinction. We create a very limited run on each issue we produce.
Submissions
For poetry, we are open to any submissions that have not already been published. We do not accept online submissions for poetry.
For artwork, we welcome artists with a well grounded career as well as new artists who are just starting. We do accept online submissions for artwork.
We also accept submissions for reviews on books of poetry.
Everyone is encouraged to submit. Please see our website, thecafereview.com for more info on submissions and exact requirements.
Upcoming
Currently, our chief-editor, Steve Luttrell, is in Edinburgh, Scotland doing a series of readings as well as a issue release party for our latest Summer 2017 issue, The
Scottish Issue. Featuring poetry in English, Gaelic, and Arabic, and special thanks to our guest editor Christine De Luca, this issue contains poetry by Patricia Ace, Henry
Bell, Ron Butlin, Gerry Cambridge, Angus Peter Campbell, Niall Campbell, Jim Carruth, Ken Cockburn, Stewart Conn, Anna Crowe, Douglas Dunn, Vicki Feaver, Anne Frater, Miriam
Gamble, Valerie Gillies, Alan Gillis, John Glenday, Pippa Goldschmidt, Yvonne Gray, Simon W. Hall, Iyad Hayatleh, Diana Hendry, Andy Jackson, Rachel McCrum, Ian McDonough,
James McGonigal, Jane McKie, Liz Niven, Michael Pedersen, Tom Pow, Chrys Salt, Christie Williamson and Rab Wilson, with artwork by June August, Alex Boyd and Robert Powell.
Information
Editors Name Steve Luttrell
Print publication? Yes
Circulation 200
Do you take online submissions? Yes
Submission Guidelines URL
Approx. Response Time? 3 weeks
How often do you publish? 4 times a year
Year Founded? 1989
Do you pay? with published issues
Contact
Twitter
Mailing Address:
The Café Review
c/o Yes Books
589 Congress St
Portland, ME 04101
Email info@thecafereview.com
Facebook https://www.facebook.com/TheCafeReview/