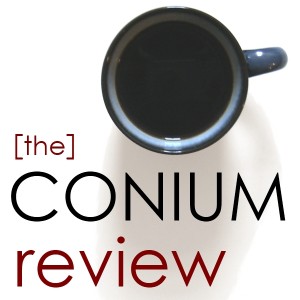 | | |
| --- | --- |
| Magazine Name: | The Conium Review |
| Website: | http://www.coniumreview.com |
| Twitter: | http://www.twitter.com/coniumreview |
| Facebook: | http://www.facebook.com/coniumreview |
| Editor: | James Gapinski & Uma Sankaram |
| Print Magazine? | Yes |
| Mailing Address: | Submit via e-mail. |
| Email: | coniumreview@gmail.com |
| Circulation: | |
| Submission Guidelines: | http://www.coniumreview.com/guidelines |
| Approximate Response Time | 5-30 days |
| Publishes: | |
| Year Founded: | 2011 |
| Online Submissions? | Yes |
| Information about your publication: | We still believe in the allure of "new book smell," and we are dedicated to producing high-quality print editions of each issue.? The publication itself is print-only, but we augment our traditionalist methods with podcasts, social networking, and online reviews.? We seek to revive and redefine small press publishing, supporting independent literature in our community and abroad. |
| What type of submissions you are looking for: | Please view our guidelines, because there are a few basic rules for submissions.? Overall, we keep ourselves open to most lengths/styles of poetry and fiction.? We don't want to limit our publication's potential.? Send us writing that is fun, witty, experimental, vivid, minimalist, surreal, or any other label you can think of. |
https://www.everywritersresource.com/literarymagazines/the-conium-review/
C
Fiction Magazines
literary magazine
Literary magazine in Print
New and Interesting
Online Submissions
Poetry Magazines
Print magazines taking online submissions
Magazine Name: The Conium Review Website: http://www.coniumreview.com Twitter: http://www.twitter.com/coniumreview Facebook: http://www.facebook.com/coniumreview Editor: James Gapinski & Uma Sankaram Print Magazine? Yes Mailing Address: Submit via e-mail. Email: coniumreview@gmail.com Circulation: Submission Guidelines: http://www.coniumreview.com/guidelines Approximate Response Time 5-30 days Publishes: Year Founded: 2011 Online Submissions? Yes Information about your publication: We still believe in the allure of 'new book smell,' and we are dedicated to producing high-quality print editions of each issue.? The publication itself is print-only, but we...
Every Writer
Every
Writer
votenewmusic@yahoo.com
Administrator
I am the editor/owner of EWR, a writer, a publisher, and a teacher.
Literary Magazines