The Pine Cone Review
Website
From the Editor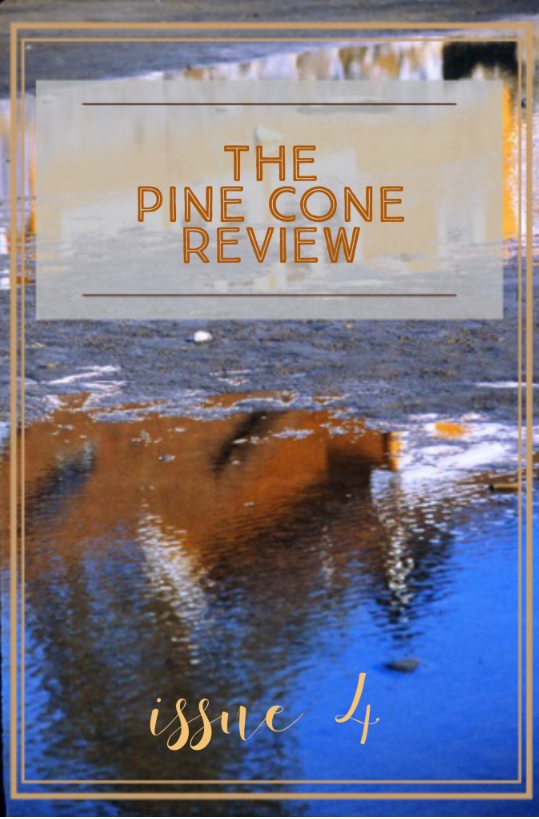 Amitava Nag's musings on the brown being in his set of 15 poems titled 'A Brown Sky', published here set the osmosis of ideas in motion. It pricked the conscience. Questions tumbled out of the closet.
What are the crevices of brownness do i/we inhabit in? What is brownness in the socio-cultural arena? Is it only the colour of skin that demarcates the brown from white, black and yellow social selves and beings? Is it more complex than mere surface tensions? If yes, then in what ways? If no, then why not?
Armed with such an arsenal of questions, the search for an apt metaphor began. It stopped at the metaphor that the pine cone houses.
A pine cone is considered to be a symbol associated with fertility, enlightenment and even the 'pine'al gland that sits at the centre of the brain. However, the aspect of the pine cone that appealed to this brown soul is its androgynous nature and the necessity to pollinate with the opposite gender cones of other pine trees, although, a pine tree appears to be self-sufficient with simultaneous production of both male and female pine cones.
The possibility of interaction beyond the limits of 'home' assigned to the metaphor of pine cone seemed to be the essence of a discussion on brownness and brown identity. The Pine Cone Review does not believe that only brown-skinned individuals can articulate the nuances of brownness and/or brown identity. In fact, it may be the case that a 'brown' individual feels nothing brown about his existence when placed in a 'brown' milieu.
The Pine Cone Review is excited to be on this journey of ideas.
The Pine Cone Review however, is not aimed at exclusivity. Brown selves and the similes and metaphors of brown existence across the world can be different depending on the space and the speaker.
The Pine Cone Review, like the pine tree, does not believe that in-group behaviour sustains.It does not matter which colour of skin you have, as long as you let your creative juices flow. We want to hear your creativity speak, beyond the limitations of this physical existence. The Pine Cone Review wishes to hear opinions, not only about brown existence. We look forward to visions of what its absence means as well. If you believe that a conversation about the same is not worthy, we are also open to listening to your opinion.
Submissions
We are looking for well-crafted honest works of written and visual art. Editing is considered to be an invaluable aspect of the creative process. We can often see shimmers of a great idea in the unpolished drafts. But they are not ready yet.
We do not care about the previous publishing history of the author/artist. We choose a text/image based on the integrity of its theme and its technique and are sometimes blown away later by the bio-note of the author/ artist.
We publish 2 annual issues every year – one on January 2, the other on June 2.
The January issue deals with an aspect of Brown existence while th eJune issue is unthemed.
For this, we accept visual artworks, non-rhyming poetry, flash fiction, flash cnf and translations. We are also interested in works that don't fall into any of these categories and are genre-bending.
We publish at least 2 special issues every year beginning from 2022: one on April 2, the other on October 2.
The special issues are always themed. The themes are announced at our website and social media handles.
We accept submissions through email only.
We accept works upto 600 words for our annual and special issues if not otherwise mentioned.
We DO NOT accept simultaneous submissions..
We also accept opinion pieces for our IDEATE section and reviews for our WINGED SEEDS section on a rolling basis.
The word limit for these sections are not binding.
Above all, we appreciate the writer/ artist when he/she/they submit to us after reading the submission guidelines carefully, available at:
Upcoming
We are now accepting submissions for our unthemed issue 4, to be published on June 2.
The theme for the next special issue will be announced in June 2022.
Information
Editors Name Susmita Paul (EiC)
Print publication? No
Circulation
Do you take online submissions? Yes
Submission Guidelines URL https://thepineconereview.com/submission-guidelines/
Approx. Response Time? 3-4 weeks
How often do you publish?
Year Founded? 2020
Do you pay? no
Twitter @PineCone_Review
Mailing Address:
Email thepineconereview@gmail.com
Facebook https://www.facebook.com/thepineconereview