Zizzle Literary Magazine
Website
From the Editor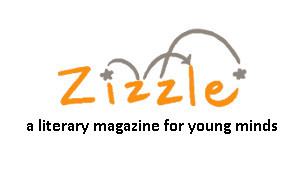 Zizzle is a literary magazine devoted to publishing quality, innovative fiction for young readers.
We believe honest, engaging fiction nourishes young, inquisitive minds and helps foster a lifelong passion for reading and learning.
At Zizzle we are all lovers of literature and art and we strive to strike a balance between truth and artistry in the fiction we publish. As anyone with experience living or working with children knows, we are wonderfully entertained and enlightened by them, often when we least expect it. We adore their sizzling imaginations and surprising insights. With the fiction we publish in Zizzle, we hope to reciprocate the generous gifts children give us.
Beginning in the summer of 2018, Zizzle will produce both digital and print issues at regular intervals.
Our Fiction Aesthetic
We look for stories that will surprise, move, and amuse young imaginative minds. We like fiction that dives deep into meaning and resists banality. We believe the moral, if any, of a great children's story should evolve naturally from within and not be imposed from without. We embrace new perspectives to the nuanced joys and tensions facing children in their daily lives and imaginations. We are open to pieces that defy traditional storytelling. Tasteful humor and a strong voice always appeal to us. We also want to be surprised, moved, and amused — just as we hope our young readers will be.
Because we respect and admire our writers (and know how much goes into crafting a great children's story) we pay competitive rates for stories that are accepted for publication in our digital and print issues.
To celebrate the launch of Zizzle, we will pay US $100 for each flash fiction piece we publish in the first issue. Going forward, we will pay our contributors as much as our funds will allow.
Visual art is also important to Zizzle and we are committed to promoting our artists and writers' work through our website and ever-growing social media platforms.
All submissions will be considered for both online and print editions. Submission guidelines: zizzlelit.com/submit/
Submissions
Flash fiction for children in grade 4 to grade 8 (age 9 to 14).
Word Limit: 500 to 1,200
Visual artwork submissions are also welcomed.
Tell us about upcoming events or contests
We are currently reading for our zizzling inaugural online issue!
Information
Editors Name Yuetting Cindy Lam
Print publication? Yes
Circulation
Do you take online submissions? Yes
Submission Guidelines URL zizzlelit.com/submit/
Approx. Response Time?
How often do you publish?
Year Founded? 2018
Do you pay? US $100 for each flash fiction piece accepted
Contact
Twitter
Mailing Address:
Email editors@zizzlelit.com
Zizzle Literary Magazine
Professionalism

Design

Editorial
Summary
We are excited to see the inaugural issue of Zizzle literary magazine. The site is professionally created. They have a target audience of "Our target readers are children in grade 4 to grade 8 (age 9 to 14)." This is a unique and ambitious project. We do not see many literary magazines taking on flash fiction for young people. The site is well done, and they are taking submissions.
Support them! They are paying for flash fiction. In a time when many literary magazines are folding, Zizzle literary magazine is taking on a difficult project. We need more literary magazines like this in the world. They are also do print versions of their works. Stop by and support them!
Zizzle Literary Magazine
Average rating:
0 reviews