Zizzle Literary Magazine
Website
From the Editor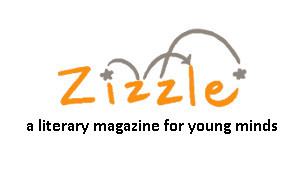 Zizzle is the first and only English-language bookazine dedicated to promoting literary flash fiction that both kids as young as age 11 and adults will enjoy.
We focus on flash fiction — the door opener for all to the world of literature. In today's digital culture, flash fiction (stories less than 1200 words) has great potential to compete for readers' dwindling attention spans. Our very short stories will make reading enjoyable and achievable for everyone.
If you're a parent, you will enjoy reading Zizzle as much as your kids will. Reading our stories can become a family activity!
If you're an English or literature teacher, Zizzle will bring literary voices from around the world to your classroom, and stories with staying power, worthy of literary discussions.
We believe honest, engaging fiction nourishes young, inquisitive minds and helps foster empathy and a lifelong passion for reading and learning.
All the stories we've chosen to publish delight us – some moved us, some made us laugh, and they all made us think. We're especially honored to publish a new story from Merrill Joan Gerber — winner of an O. Henry Prize and a Pushcart Editors' Award.
At Zizzle we are all lovers of literature and art. Beginning in the fall of 2018, Zizzle produces hardcover issues three times a year.
Our debut was released in November 2018, and our second edition is just released in March 2019. Each issue will feature a single artist, and for our second issue, we're showcasing some of the stunning paintings by Jantina Peperkamp — a distinguished realist painter from the Netherlands.
Our gorgeous little hardback books are great for readers to keep and collect. Order now at zizzlelit.com!
We'll soon be launching our first audio edition as well. Follow us on Twitter @zizzlelit for the most current updates. Alternatively, you can see some of our news @zizzlelit on Instagram, too.
All submissions will be considered for both online and print editions. Submission guidelines: zizzlelit.com/submit/
Submissions
At Zizzle we look for stories that will surprise, move, and amuse both young and mature imaginative minds. We like fiction that dives deep into meaning and resists banality. We believe the moral, if any, of a great story should evolve naturally from within and not be imposed from without. We embrace new perspectives to the nuanced joys and tensions in kids' daily lives and imaginations. We are open to pieces that defy traditional storytelling. Tasteful humor and a strong voice always appeal to us.
Because we respect and admire our writers (and know how much goes into crafting a great story) we pay professional rates for stories that are accepted for publication in our print, digital, and audio editions.
We accept submissions year-round.
We urge our submitters to familiarize themselves with our aesthetic by reading Zizzle's debut print issue. Order now at zizzlelit.com!
Fiction Submissions
• We seek flash fiction that not only appeals to kids as young as age 11 (grade 6), but to grown-ups as well.
• Because we are writers too, we understand the need to accept simultaneous submissions. We only ask that you notify us promptly if your story is accepted elsewhere.
• We welcome submissions from anywhere in the world, but stories must be written in English.
• Only previously unpublished works will be considered for publication.
• Length: 500 to 1,200 words.
• Please only submit typed, double-spaced manuscripts with 1" margins in 12pt font. Include the author's name and story title in the header on every page.
• Please include on the first page of your submission your full name and email address, the word count of your story, and a print-ready, third-person bio (less than 70 words) with your brief cover letter.
• Only electronic submissions are accepted. Submissions by post or email will not be read.
• There is a US$3 submission fee per story to cover our production costs. We hope writers understand the economic realities of publishing a quality literary publication. Any revisions on previously submitted stories will be counted as new submissions. We do not issue refunds for submission fees.
• You may submit more than one story, but you will need to fill out the submission form again and pay the submission fee for each story you submit.
• We cannot guarantee a response time as it will depend on the number of submissions we receive.
• We only consider submissions from adult writers (age 18 or above).
• We accept submissions on a rolling basis.
• We pay a flat rate of US $100 for each accepted flash fiction piece. The accepted piece will appear in our hardcover, digital or audio edition, or in all three formats
Upcoming
Second hardcover edition release: March 2019. First audio edition release: April 2019
Information
Editors Name Lesley Dahl
Print publication? Yes
Circulation
Do you take online submissions? Yes
Submission Guidelines URL zizzlelit.com/submit/
Approx. Response Time?
How often do you publish?
Year Founded? 2018
Do you pay? US $100 for each flash fiction piece accepted
Contact
Facebook: Zizzle on Facebook
Mailing Address: P.O. Box 8507, General Post Office, Hong Kong.
Email editors@zizzlelit.com