?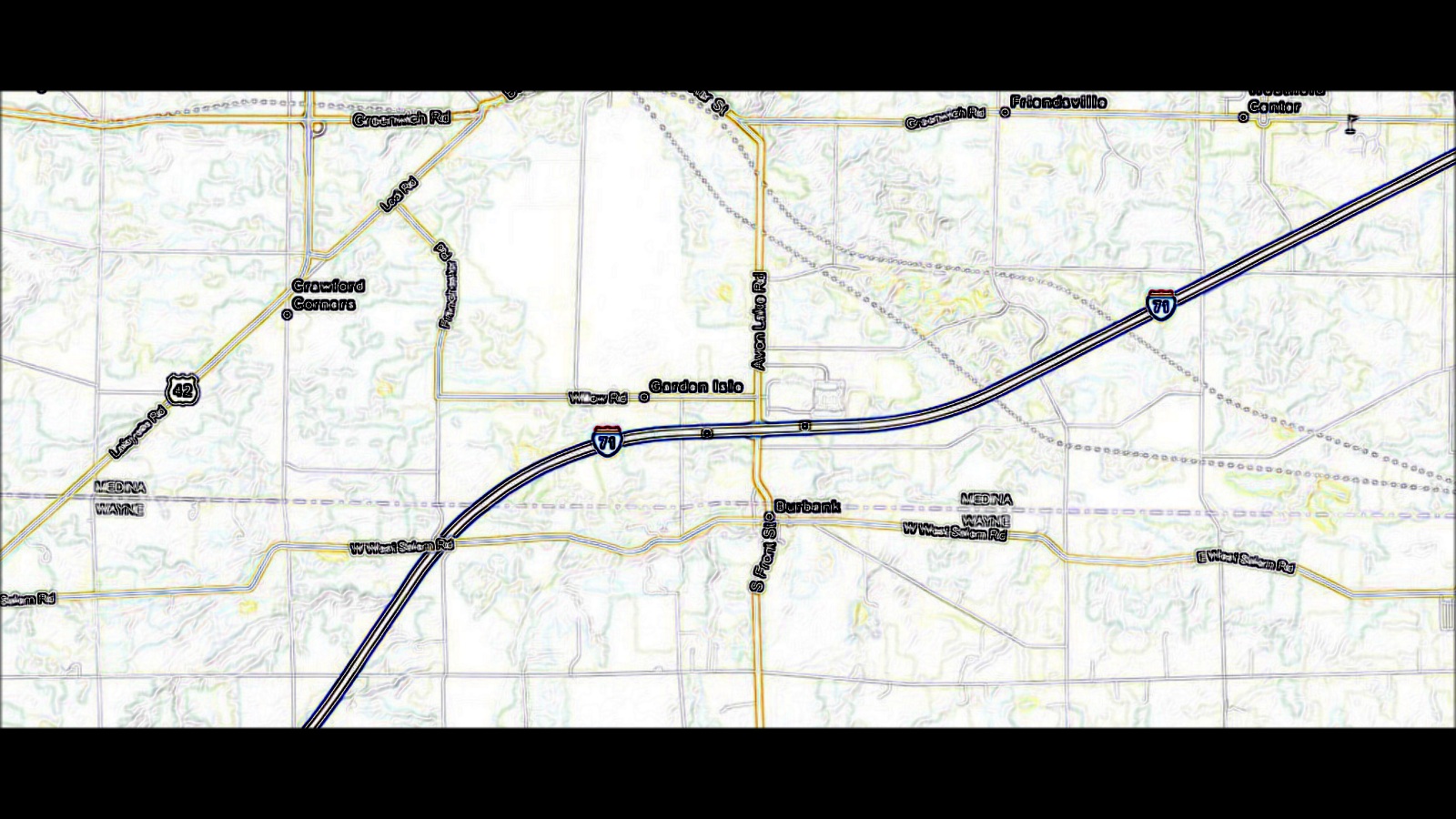 Automobile Slide
by Natasha Ganes
Log onto www.mapquest.com or fire up your GPS:
Start in Michigan.
Rush through route Indiana, Illinois, Missouri, Oklahoma, Texas, New Mexico, Arizona to avoid possible Rocky Mountain winter storms while parents follow in moving van.
End in California.
Step 1: Pull deformed shapeless mess out of box, unroll across floor.
Merge onto I-96 West Jefferies freeway via ramp on the left:
Michigan in the automobile slide cold and grey—
kiss Daum to last a year,
sneak drag off his hand-rolled,
wave goodbye to Rick,
store that image,
you'll never see him again.
Step 2: Spread plastic, separate identifying limbs.
Merge onto I-69 South via Exit 108 toward Ft. Wayne:
Creep into Indiana's frosted isolation—
tall white cross stretches empty field,
men in white sheets, old horror flicks,
demented kids living in corn mazes,
driver faster.
Step 3: Locate clear hard nozzle on side, suck in deep breath.
Merge onto I-70:
Illinois' bottom sliver unremarkable—
yawn often, let Mother drive,
dream of barbed wire fences,
circling crows, shimmering hatchets,
wake up dripping.
Step 4: Exhale into nozzle.
Merge onto I-255 South:
Race across Missouri—
one side pounds rain,
other towers jagged rock,
both block view,
feel claustrophobic,
chainsmokechainsmokechainsmoke.
Step 5: Repeat steps 3 and 4. Get used to the action; you'll do it for awhile.
Merge onto I-44 West via Exit 34 toward OK-66/ Tulsa:
Drift through Oklahoma's fire—
close windows, rub red eyes,
Amarillo by afternoon,
sing Amarillo by Morning,
dodge panhandle tumbleweeds,
recall Indiana, don't stop.
Merge onto I-40 West:
Pause in New Mexico—
passive faces peer over painted mountains,
stand still in pastel glow,
phone chipper best friend outside truck stop,
soak up sun, remark on heat, recap trip,
buy bottle opener for Rick.
Step 6: Keep breathing in and out, use old bicycle pump in closet when strength falters.
All lanes and entrance ramps on I-40 West will be closed in both directions:
Death in Arizona—
camp on freeway for twisted big rigs,
Father swears often,
panic in shadowed mountains,
darkened by coyote howls,
wait while Mother squirms.
Step 7: Fit clear hard flap into clear hard hole to secure air leaks from clear hard nozzle.
Merge onto CA-91 West toward Beach Cities:
Arrive in idealized permanent vacation California—rain sputters, starts, stops, downpours, stops, instant exits, marvel at palm trees, lost every couple miles, everyone swears, pass another silver Beamer, rain starts, wonder about song that claims it never rains here, sing song, forget all parts of song expect chorus, wonder about identity of singer who sings song that claims it, never mind rain stops, read signs announcing ocean, stare at endless suburban sprawls, look for actual ocean, search for open spaces in parking lot puzzle, ask why you moved here, search for open spaces anywhere, feel claustrophobia return, fbombfbombfbomb, squeal into parking space, collapse on brother's floor.
###
Natasha Ganes is a graduate of Chapman University in Southern California, where she received her MFA in Creative Writing and MA in English Literature. She is an adjunct English professor at Everest University, the public relations manager for a national security company, and co-founder of Chapman Writers. Her poetry and fiction have appeared in Elephant Tree, Muddy River Poetry Review, and quarter after.
Richard Edwards has a BFA in Creative Writing and Journalism from Bowling Green State University and an M.S. in Education from the University of Akron. Managing editor of Drunk Duck, poetry editor for Prairie Margins, reporter for Miscellany, Akron Journal, Lorain Journal, and The BG News. He has also worked as a professional writer and editor in the medical publishing industry for several years. For the last 15 years Richard has also taught literature and writing at the secondary and post-secondary levels. He works much of the time with at-risk students.