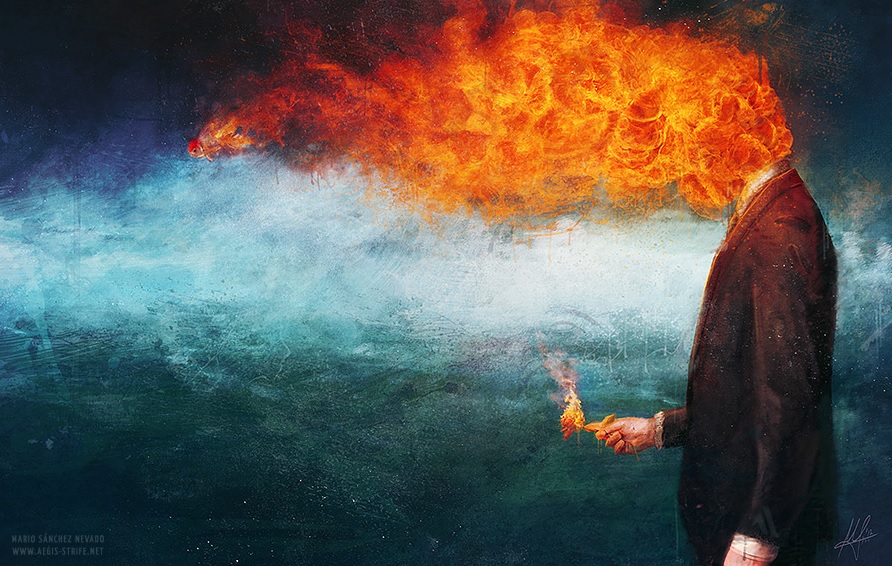 Man on Fire
by Nik Vestberg
I didn't even have time to get annoyed at the man squeezing past me in the stairwell before I realized he was on fire. He didn't seem to care himself and by then he was already so far ahead it didn't seem appropriate to run after him. If anyone else was noticing they weren't doing anything about it either. By the time I reached the platform myself I had caught up with him and we got on the same train. 'Ha', I thought to myself as I sat down. 'See, how far all that rushing got you'.
He sat down in the seat opposite me and immediately started reading a book. I found it hard to tell if the sweat dripping from his forehead was from the sprint-like descent down the stairs or because his upper torso was engulfed in flames. I looked around. Still, nobody in the carriage was paying him any attention. I felt bad just sitting there watching him burn, but then I decided that it was far too private a condition to point out to a stranger.
The heat was taking its toll on his book and as the page he was on started turning from brown to charcoal I began to worry about him missing out on vital plot points. Luckily he finished the page before it disintegrated. I wondered if the butler did it or if they were going to live happily ever.
###
Nik Vestberg is a Swede living in London where he spends most of his free time obsessing over coffee, craft beer and obscure movies. He is currently working on his first novel. If you would like to reach him visit http://aglowingpearovermyhead.tumblr.com/ or send an email to nikvestberg at yahoo.co.uk