Vine Leaves Literary Journal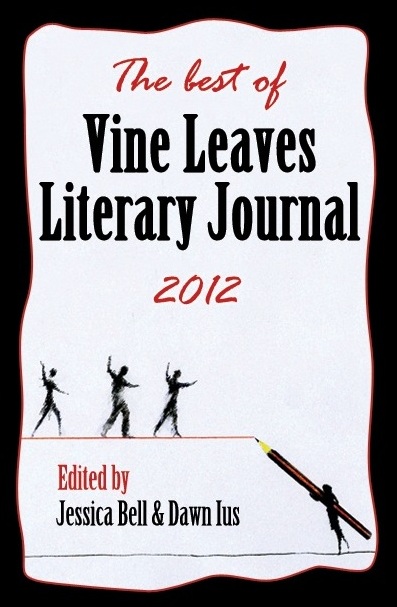 | | |
| --- | --- |
| Magazine Name: | Vine Leaves Literary Journal |
| Twitter: | https://twitter.com/VineLeavesLJ |
| Facebook: | https://www.facebook.com/vineleaves.literaryjournal |
| Website: | http://www.vineleavesliteraryjournal.com |
| Editors Name: | Jessica Bell |
| Print publication?: | Yes |
| Mailing Address:: | ? |
| Email: | vineleaves.editors@gmail.com |
| Circulation: | approx 1500 unique page views per issue |
| Submission Guidelines URL: | http://www.vineleavesliteraryjournal.com/guidelines.html |
| Approx. Response Time?: | 2 months |
| How often do you publish?: | quarterly online, annually in print |
| Year Founded?: | 2011 |
| Do you take online submissions?: | Yes |
| Information about your publication: | The world of literature nowadays is so diverse, open-minded and thriving in experimental works, that there doesn't seem to be any single form of written art missing from it … you would think. But there is. The vignette. It?s rare for a literary magazine to accept the "vignette" as a publishable piece of literature. Why? Because it is not a ?proper story.? We beg to differ. So, what is a vignette? "Vignette" is a word that originally meant "something that may be written on a vine-leaf." It?s a snapshot in words. It differs from flash fiction or a short story in that its aim doesn't lie within the traditional realms of structure or plot. Instead, the vignette focuses on one element, mood, character, setting or object. It's descriptive, excellent for character or theme exploration and wordplay. Through a vignette, you create an atmosphere. Vine Leaves, will entwine you in atmosphere; wrap you in a world where literature ferments and then matures ? |
| What type of submissions are you looking for?: | vignettes |
http://www.everywritersresource.com/literarymagazines/vine-leaves-literary-journal/
literary magazine
Literary magazine in Print
New and Interesting
Online Submissions
V
Magazine Name: Vine Leaves Literary JournalTwitter: https://twitter.com/VineLeavesLJFacebook: https://www.facebook.com/vineleaves.literaryjournalWebsite: http://www.vineleavesliteraryjournal.comEditors Name: Jessica BellPrint publication?: YesMailing Address:: ?Email: vineleaves.editors@gmail.comCirculation: approx 1500 unique page views per issueSubmission Guidelines URL: http://www.vineleavesliteraryjournal.com/guidelines.htmlApprox. Response Time?: 2 monthsHow often do you publish?: quarterly online, annually in printYear Founded?: 2011Do you take online submissions?: YesInformation about your...
Every
Writer
votenewmusic@yahoo.com
Administrator
I am the editor/owner of EWR, a writer, a publisher, and a teacher.
Literary Magazines