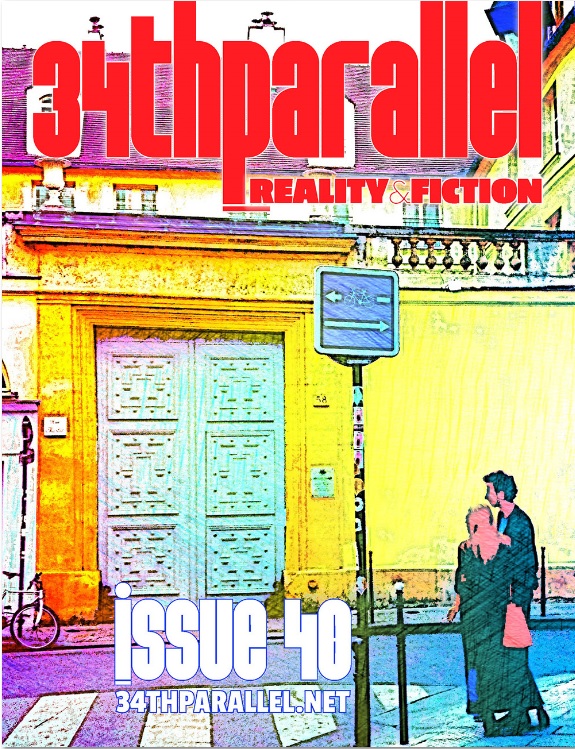 34thParallel Magazine
Website
http://www.34thparallel.net/index.html
From the Editor
Our reality is a fiction.
Fiction is created jointly by a writer and a reader, Mohsin Hamid says in his book, Discontent and its Civilizations.
Writing is different from video, because readers assemble more of the story themselves. Fiction doesn't come with sound tracks and casting directors.
"We're born with an inbuilt capacity for language. We need language to tell stories," Hamid says.
"We need stories to create a self."
He says the self we create is a fiction, facing a reality we can't, for good reason, entirely believe.
Submissions
Your story.
It's all about getting your story out there!! Your reality & fiction, poetry, art & images.
Your reality (aka creative non-fiction) & fiction, straight-out journalism, essay, screenplay.
Your poetry (aka writing that isn't prose) plus hip-hop and greatest hits.
Your art, photo, photo story or essay, graphic story, comic, cartoon.
When you submit you can download the latest issue of the magazine. At $12 either the submission or the magazine is FREE, hurrah!! Is that cool or is it cool??
Upcoming
Information
Editors Name Martin Chipperfield
Print publication? Yes
Circulation 1000
Do you take online submissions? Yes
Submission Guidelines URL
Approx. Response Time? 3-6 months
How often do you publish? Quarterly
Year Founded? 2006
Do you pay? Contributors copies
Contact
Twitter
Mailing Address:
Email 34thParallel@gmail.com