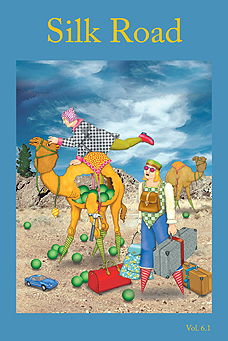 Magazine Name:
Silk Road
Website:

silkroad.pacificu.edu

Editor:
Kathlene Postma
Print Magazine?
Yes
Mailing Address:
Silk Road Review Pacific University College Way

Forest Grove, OR 97116

Email:

silkroad.pacific@gmail.com

Circulation:
500
Submission Guidelines:
Approximate Response Time
3 months
Publishes:
Twice a year
Year Founded:
2006
Online Submissions?
Yes
Information about your publication:
Twice a year Silk Road publishes finely crafted fiction, essays, poetry and translations that give readers a vivid point of exchange or an interaction that could occur only in a specific time and space. This event could be captured in a poem or short story as well as in reportage or

travel writing

. It could happen in a classroom in New Zealand or on the expanse of the African plains. We welcome work set in any location in the world including the U.S. Anyone from anywhere can enter into the conversation. We all start somewhere, so "place" is the touchstone the magazine uses for the pieces we publish. However we operate with no narrow definition of that word. The writers we feature take our readers somewhere crucial, defining and relevant.
What type of submissions you are looking for:
We like all kinds of fiction, poetry and nonfiction and hybrid forms, although we're more likely to publish work that reflects the larger goals of our magazine. We want to know how literary art captures the movement and exchange of people. We like to see what's happening in places anywhere in the world at any given moment. We like to cross paths with those we don't know or already thought we knew but will be forced to see in a new way by the end of the piece. That said, we publish good writing of all kinds. We have an open and interested editing team, and we get excited about publishing writers new to the game as well as writers who have been publishing a good long time. Every piece we receive gets read by at least three of our staff readers and discussed by the team. We respect what it takes to write the good stuff and the effort to do it.