Subnivean
Website
From the Editor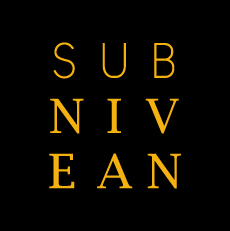 Subnivean, SUNY Oswego's literary publication, was established in 2020. In 2021, it was recognized for its excellence as one of just four national Firecracker Awards finalists in the category of "Magazines: Best Debut" by the Community of Literary Magazines and Presses.
As of January 2022, the publication has published four issues and received manuscripts submitted by writers in the United Kingdom, Spain, Italy, Canada, India, Bangladesh, Bolivia, Australia, Palestine, Japan, Bulgaria, Switzerland, Sweden, France, Austria, Portugal, Paraguay, Belgium, Morocco, Norway, Taiwan, Germany, Ireland, Poland, South Africa, Pakistan, Nigeria, New Zealand, India, Algeria, Ireland, Pakistan, Bangladesh, Paraguay, Philippines, Kenya, Romania, Belarus, Netherlands, Finland, Bolivia, Zimbabwe, South Korea, Mongolia, Malaysia, Netherlands, Costa Rica, Israel, Turkey, Myanmar, Russia, Tanzania and 49 U.S. states (North Dakota authors, join the party!) as well as Puerto Rico and the U.S. Virgin Islands. Here is Subnivean's Facebook page.
Subnivean's collaborators include U.S. Poet Laureate Emeritus Juan Felipe Herrera, April Sinclair, Arisa White and Daniel "Lemony Snicket" Handler. Contributors include Juan Felipe Herrera, Angie Kang, Chaun Ballard, Molly Giles, Rishita Acharya, Daniel Riddle Rodriguez, Meg Hurtado Bloom, Hazem Fahmy, Amit Majmudar, Scott Nadelson, Jane Wong, Siamak Vossoughi, Megan Merchant, Keenan Norris, Robbie Q. Telfer, Tyler Barton and others.
Subnivean's editorial mission is to curate and produce bone-deep, high-caliber literary art that speaks urgently to an evermore-connected international audience. We publish three digital issues per year: one in the fall, one in the spring and one in the summer. Occasionally we publish a fourth issue, such as a print anthology. This means the student staff will collaborate, every semester, to prepare and promote content for two issues.
Subnivean's educational mission is to demystify digital storytelling and publishing through hands-on, project-based experience—providing students with a foothold in the real world of publishing, and a collective presence to the national and international literary communities—as well as an on-staff experience that looks great on a resume or CV. The publication has received generous support from the State University of New York at Oswego's RISE Travel Grant program and the Shineman Endowed Fund.
Submissions
Subnivean is looking for short stories up to 6,000 words and sets of three to six poems. Our audience enjoys literary or upmarket writing: stories and poems that do not fit into a particular mold. Rather, we're seeking work that breaks the mold, grinds it into a fine powder, pours it in a pot of water and brings it to a boil, schleps it up a steep mountainside, drizzles it across the snow and lets it cool, there, into the desired shape. Please read a few of our issues in order to get a sense for what we gravitate toward. If you have any questions, direct them to SubniveanMag@gmail.com and we will do our best to answer promptly. Our open submissions categories are at https://subnivean.submittable.com/submit
Contest and Upcoming
In 2022, U.S. Poet Laureate Emeritus Juan Felipe Herrera and Daniel "Lemony Snicket" Handler will serve as the final judges of the Subnivean Awards. The second annual Subnivean Awards event, a virtual literary reading emceed by student staff members, will feature Mr. Herrera and Mr. Handler in public conversation—followed by a literary reading featuring the 8 finalists. We have yet to solidify the event date, but it will likely be in late April 2022. You can watch the 2021 event here, if you're into all that nerdy good stuff: https://youtu.be/pZWaWN0v4t8
Information
Editors Name Soma Mei Sheng Frazier
Print publication? No
Circulation 10,000+ unique visitors
Do you take online submissions? Yes
Submission Guidelines URL https://subnivean.submittable.com/submit
Approx. Response Time? 3-6 months
How often do you publish? We publish three to four issues per year.
Year Founded? 2020
Do you pay? Our literary competition, the Subnivean Awards, pays. Unfortunately, we do not have a budget with which to pay contributors to general submissions.
Contact
Twitter https://twitter.com/subniveanmag
Mailing Address:
Subnivean
c/o Soma Mei Sheng Frazier
329 Marano Campus Center
SUNY Oswego
7060 NY-104
Oswego, NY 13126
Email somameisheng.frazier@oswego.edu
Facebook https://www.facebook.com/SubniveanMag/