Don't Look For Us
By Christine LaChance
Archive: LC-ECHO-114 Transmission Delta Delta Phi QIV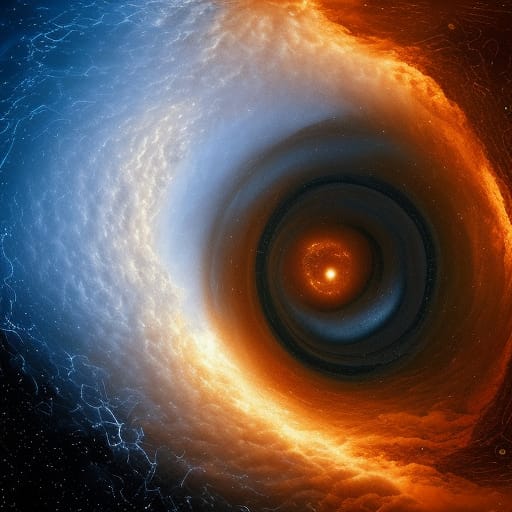 "Is it working?  This is Lieutenant Cypher of the Echo-114 squadron.  If you're hearing this transmission, it means we're lost.  I'm the only one left.  More specifically, I don't know where all the others have gone.  Our vessel is a derelict.  Our instruments have been compromised.  There are too many electrical storms on this planet. We had no choice but to land here, a planet where the atmosphere wouldn't destroy us.  Coming here, we thought there would be a chance of survival, an opportunity for repairs, even a chance at exploration.  We were wrong.  I've linked the coordinates of our last location to, upon a miracle, warn you about this place, to keep you from here.  
"The wormhole had ensnared us before we had any hope of escape.  My god, it formed so rapidly.  To see space fold and shift upon itself like that.  Then to be consumed by the very calamity of quantum physics.  Times like that, I couldn't help but believe there might really be a god, and that He might have deemed it fit to punish us.  We had come so far.  We were destined to be slapped back down.  How could we not be punished?  We were foolish.  So much life, so much potential, gone.  I played my part, I know.
"When I awoke here, I was alone.  My soldiers had vanished.  I don't know where they could have gone on such a hostile planet.  I don't know why they would have abandoned me, or at least not have sought me out.  They couldn't have gone far, not in this neverending tempest.  Despite this, no information was given.  No bodies found.  There was nothing to suggest they were ever with me in the first place.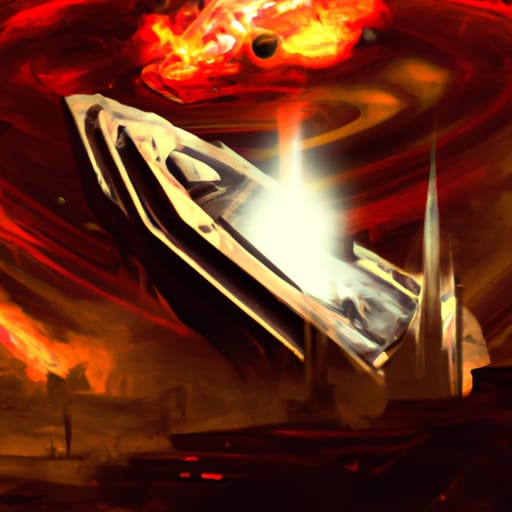 "The temperatures are rising and the storms are constantly churning.  The temporary provisions kept in our vessel are running out.  I am running out of time.  I have sought out sanctuary somewhere upon the surface, beyond the wrecked ship, hoping I might find some sort of sign of anything, really.  There is nothing out here to harvest, nothing to hunt.  Even though the deep red sky swirls and vomits lightning restlessly, no rain comes.  I've traveled little upon this surface, trying to extend my life just one more day.  There are no rivers, no lakes, no water of any kind.  Only white sand and black rock.  I leave tracks when I walk.  They are red, nearly matching the sky.  I can always follow my own footsteps back, if I ever fear losing my way.  The rocks stand out, the complete opposite color of the sand.  These rocks, I discovered while hiding from lightning, harbor caves.  I have found a few, never straying far from the wreck.  I follow the footsteps back, and the path grows redder each time.  The number of footsteps keep growing, more and more of the pristine sand disturbed to reveal the bright redness just below the surface. I find myself thinking I follow a path of blood back the way I came.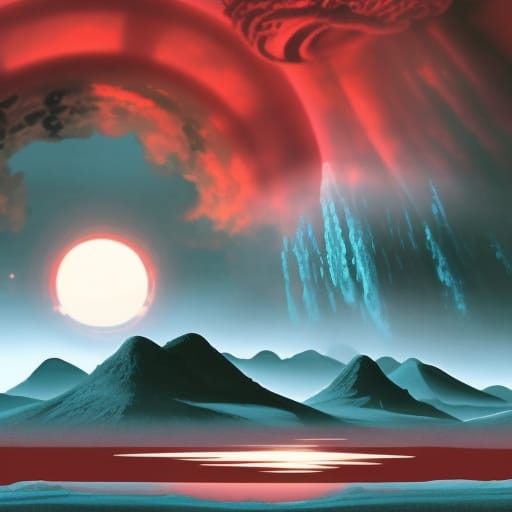 "I've seen enough of this planet to know something else; There is nothing else out here, nothing but those strange faces.  Floating eyes and fangs
 haunt me, even inside this cave.  I don't know how much longer I can last out here.  There is no hope of a rescue, and I've made my peace with this fact.
"Sleep, when it comes, is filled with visions of the crew I've lost, the crew I have failed.  Too often I've been awoken by strikes of lightning.  Too oftenI've awoken to see those strange faces peering at me from the shadows.  The wide eyes of gold and red to match the sky.  The fangs part in a frightful grin.  Too often I see them.  My weapons have no effect on them.  If anything, it makes their grins go wider before they dissolve away.  Back they come, always, to watch.  They always watch me.  Even now.  I can see them staring, as though they listen to the words I speak to you now.  They move closer, always.  Always they come closer.  I hate them.  I don't want them to watch me anymore.  I don't want to see them anymore.  I've saved one bullet, and I think the time has come to use it.  They can stare at me as much as they desire then.
"If my life were to have any meaning beyond the endless destruction I've wrought upon so many, let it be this warning; I beg you, I beg all of you.  Whatever our military regulations tell you, whatever your conscience might dictate, however curiosity pushes you to seek out this living hell, please, don't look for us.  I deserve this.  We deserve this.