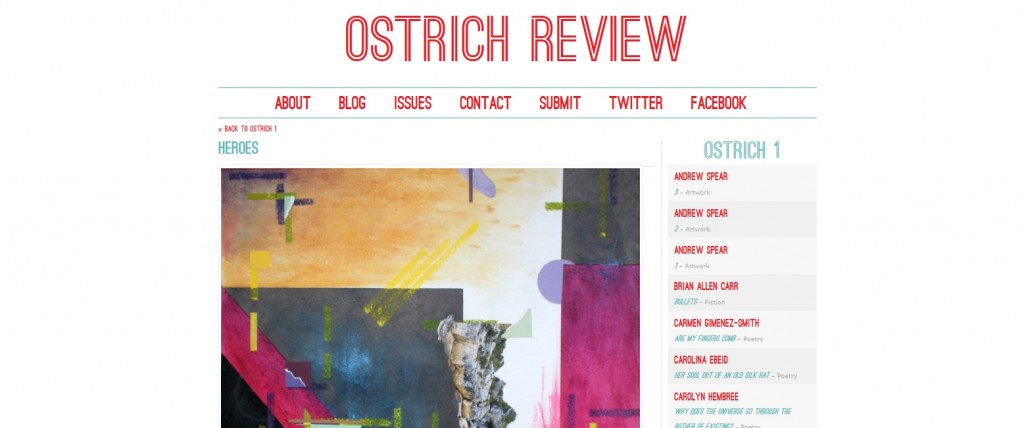 Magazine Name

Ostrich Review

Twitter

https://twitter.com/#!/OstrichReview

Facebook

http://www.facebook.com/ostrichreview

Website

http://ostrichreview.com/

Editors Name

Benjamin Sutton & Nayelly Barrios

Print publication?

No

Mailing Address:

Email

theostrichreview@gmail.com

Circulation

Submission Guidelines URL

http://ostrichreview.com/submit/

Approx. Response Time?

1 week to a month

How often do you publish?

Twice a year

Year Founded?

2012

Do you take online submissions?

Yes

Information about your publication

Ostrich Review is an online journal of poetry, storytelling, and art founded in 2012.

What type of submissions are you looking for?

Welcome, and thank you for considering Ostrich.

Like a Christmas present from the gods, unsolicited submissions are open every day of the year as long as you follow a few basic guidelines:

Include a cover letter with your submission. Tell us something about yourself. Maybe not your life story, but at least your name, email, and the best way to get in touch with you. Let us know if your submission is being sent elsewhere, et cetera.

Simultaneous submissions are okay. Previously published work is not. Submit to one genre at a time. Wait until we respond before submitting again.

After 90 days, feel free to email us about getting our act together.

For more specific guidelines, look for your category below.

As of right now, we are not a paying market. As always, upon acceptance Contributors retain all rights but are asked to acknowledge Ostrich Review as first publisher if the work appears elsewhere.

Once again, thanks for considering Ostrich.