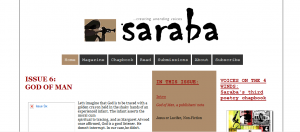 Magazine Name:
Saraba
Website:
DEFUNCT DO NOT SUBMIT WORK.
Editor:
Emmanuel Iduma, Damilola Ajayi, Adebiyi Olusolape, Temitayo Olofinlua, Arthur Anyaduba, Ayobami Famurewa
Mailing Address:

sarabamag@gmail.com

Email:
sarabamag@gmail.com
Circulation:
Submission Guidelines:
Approximate Response Time
Four weeks
Publishes:
Four times a year
Year Founded:
2009
Online Submissions?
Yes
Information about your publication:
Saraba is an imprint of Two Iroko Limited whose goal is to create unending voices by encouraging young, previously unheard writers to publish their works, assist emerging writers (i.e. those who have been published little or not at all, whose talent are recognizable and whose works are qualitative) in establishing their voices by creating a platform for their writing to be showcased. Through an actualization of these purposes, Saraba would ensure that there is no generational gap, that succeeding generations of writers in

Africa

have unending voices. It was also established to create a link between established writers and emerging writers through mentorship opportunities and other related mediums. Finally, to celebrate literature and its undying nature by showcasing it in the most contemporary ways. We publish an electronic magazine which is distributed free to literary enthusiasts across

Nigeria

and other parts of the world. Through our website, we are able to publish the best of contemporary creative writing online. Also, we publish chapbooks. Our first chapbook is a collection of poems by six emerging writers and was guest edited by Tade Ipadeola, poet and lawyer. We are always seeking emerging writers to publish, as well as contemporary ways to showcase literature in Africa and in the world, on a larger scale.
What type of submissions you are looking for:
From April 2010, Saraba would no longer accept entries for the online magazine. Entries would be received only for the e-magazine and chapbooks. The site would be improved continually to represent and reflect the best of emerging writing from Nigeria, Africa and the world. Interested contributors should read the following guidelines carefully. Saraba's staff is a small number of committed and enthusiastic but busy professionals. As such, entries that do not conform to these guidelines would not be considered. Our goal is to give emerging writers a voice and confidence, to give them the opportunity of having their works published. For the magazine, we would, from the June Issue, publish content in two 'portfolios.' The first portfolio would be theme-based. Please see our themes for the year. We would publish, also, content of a general literary nature, but this portfolio would be smaller in size than the first. Please send your work in an attachment in any of our three major categories: Fiction, Poetry and Non-Fiction. Send no more than one work at a time, and wait for our response before you send another.

Word count

for fiction works is 5,000, except for our annual story issue. We'd accept no more than 3 poems at a time. For

Non-fiction

, we expect a broad range of new creative writing, including short memoirs, interviews, reviews, creative non-fiction, creative journalism, etc. Word count for this is 2,500. We are also open to digital art including photographs, illustrations, paintings and so forth. Please send in high resolution jpeg files (not larger than 4 MB). Please send alongside a bio of not more than 50 words (in third person). Unsolicited poetry would not be considered for the chapbooks. If interested, please send a query and we would reply accordingly. Poems submitted would be generally considered for the magazine, on either of the portfolios. Although we strive to highlight the talent and hard work of contributors, please note that we cannot afford to pay contributors. So, expecting your submissions.